Stadionul Dr. Constantin Rădulescu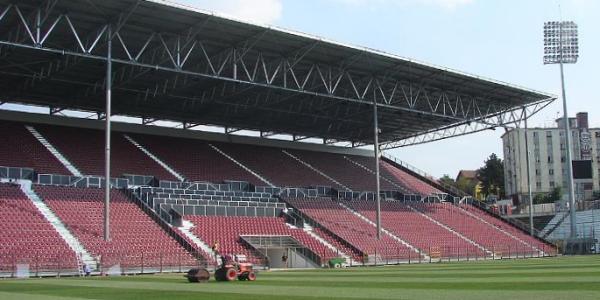 Key facts
Club: CFR 1907 Cluj | Opening: 1973 | Capacity: 23,500 seats
History and description
Stadionul Dr. Constantin Rădulescu opened in 1973 with a match between Cluj and the Cuban national team.
Until the early 2000s, Cluj mostly played in the lower leagues, for which a modest stadium was more than sufficient.
This changed when Cluj promoted to the top league in 2004 and soon after qualified for European football. The club therefore embarked on a €20-million redevelopment program that saw the construction of three new modern stands. Works were finished in September 2008.
The club has tentative plans to complete the stadium with a fourth stand at the end currently left empty, which would raise capacity to over 25,000 seats.
Getting there
Stadionul Dr. Constantin Rădulescu is located in central Cluj-Napoca, more or less in between the city centre and the railway station.
The stadium lies just north of the city centre, from which it is a short 15-minute walk. The walk from the central railway station (which lies north-east of the stadium) takes even shorter.
Address: Str. Romulus Vuia 23, Cluj-Napoca, 40021
Eat, drink, and sleep
Stadionul Dr. Constantin Rădulescu lies a short walk away from Cluj-Napoca's city centre, where there are plenty of eating and drinking options.
There are various hotels in the area of the stadium. Villa-Hotel Escala, Seven Hotel, Hotel Belvedere, and Vila Casa Alba all get very good reviews, are decently priced, and are just a short walk away from the stadium, railway station, and city centre.
Click here for an overview of all hotels in Cluj-Napoca.
Tickets
Tickets for CFR Cluj matches can be bought online, or at the ticket office at Stadionul Dr. Constantin Rădulescu.
Tickets are also available at the ticket office before the start of the match. Identification is obligatory to buy tickets.
Ticket prices for a typical match range from RON 5.00 for a lower-tier seat behind the goal to RON 30.00 for a central seat at one of the long sides.
For more information call +40 264 598831.
Relevant Internet links

Cfr1907.ro – Official website of CFR 1907 Cluj.
Romaniatourism.com – Cluj section of the Romanian tourism website.