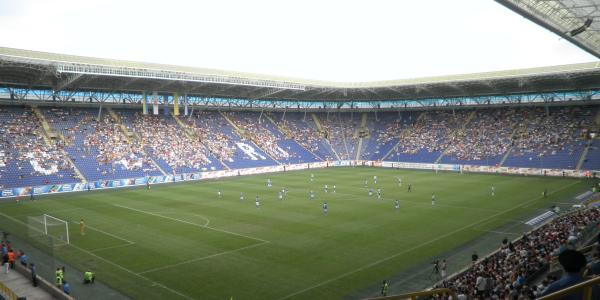 Key facts
Club: FC Dnipro | Opening: 2008 | Capacity: 31,003
History and description
The Dnipro Arena officially opened on the 14th of September 2008. Construction had started three years earlier in 2005.
The stadium was initially considered as a playing venue for Euro 2012, but in the end failed to meet the capacity requirement of 33,000 seats. In 2009, the Dnipro Arena hosted the Ukrainian cup final.
Getting there
The Dnipro Arena is located in central Dnipropetrovsk. The stadium lies only a few blocks south of the principal Karla Marxa avenue. From the avenue, or the city's central square, it is no more than 15 minutes walking.
It is further from Dnipropetrovsk's main railway station, which lies at the western end of Karla Marxa avenue, approximately 2.5 kilometres away, or a good 30 minutes walking.
Tram 4 and 5 can bring you from the railway station to the stadium. One can catch tram 5 just south of the railway station, while tram 4 leaves a block north-west from the station. Tram 1, which runs over Karla Marxa avenue, is an alternative.
There are several daily trains that connect Dnipropetrovsk with other major Ukrainian cities.
Address: Khersonskaya st. 7, Dnipropetrovsk (л. Херсонская, 7, г. Днепропетровск)
Eat, drink, and sleep
The central location of the Dnipro Arena makes that there is a decent variety of eating and drinking options not far from the stadium (mainly north toward the centre).
The closest hotel to the Dnipro Arena is Smart Hotel, though there is a good variety hotels in Dnipropetrovsk's centre only a little further north of the stadium. Click here to see all hotels in Dnipropetrovsk.
Tickets
Tickets for FC Dnipro matches can be bought online, at the ticket office at the Dnipro Arena, or at the branches of the Privatbank.
Dnipro's attendances tend to average around 15,000 per match, but the club does sell out the occasional high-profile match.
Tickets typically range in price from UAH 10.00 for a seat behind the goal to UAH 50.00 for a central seat at the main stand.
Photos
Relevant Internet links

Fcdnipro.ua – Official website of FC Dnipro.
Gorod.dp.ua – Information about the city of Dnipropetrovsk.