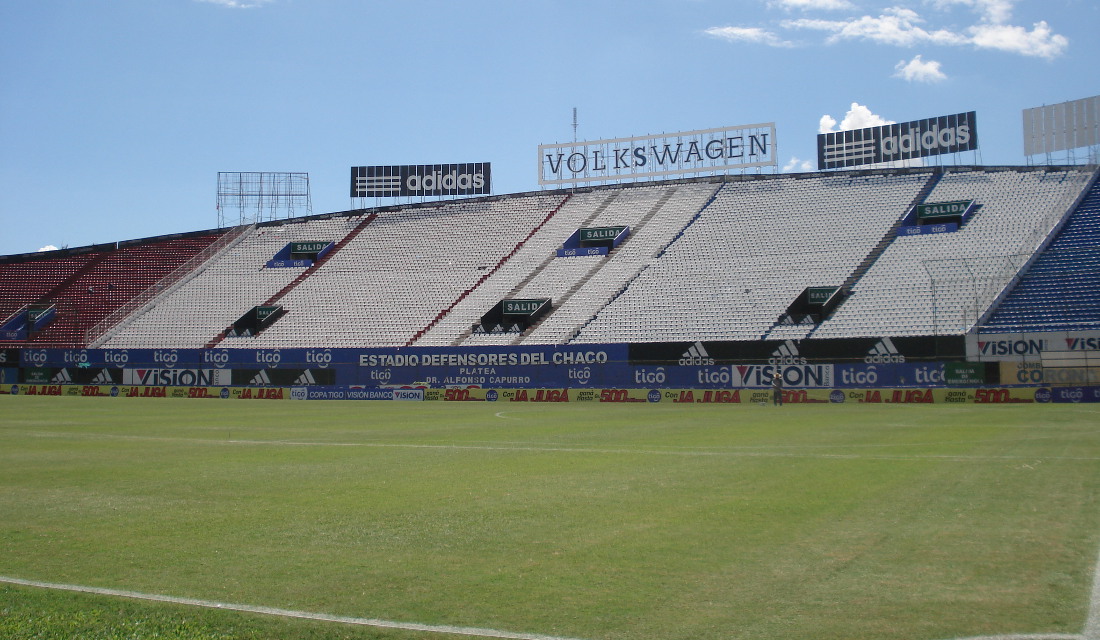 Key facts
Club: none | Opening: 1917 | Capacity: 32,000
History and description
Estadio Defensores del Chaco is the home of the Paraguayan national football team. The stadium is owned by the Paraguayan football association.
The idea of building the Estadio Defensores del Chaco came from league president Enrique L. Pinho, who deemed the existing stadiums in the country in the early 20th century to be inadequate for the growing popularity of football.
Construction of the stadium began in 1915 and was completed two years later. It officially opened on 4 November 1917 with the league final between Olimpia and Libertad (0-1).
The stadium was called Estadio de Puerto Sajonia back then and could hold about 10,000 spectators.
The stadium got further expanded in 1925, but heavily damaged only a few years later during the Chaco War (fought between Paraguay and Bolivia). It took four years from the end of the war in 1935 until 1939 for the stadium to get rebuilt.
After Paraguay won the Copa America in 1953, new funds came available for a large redevelopment of the stadium, which gave it its current shape. The stadium received its present name in 1972 in honour of the soldiers that died during the Chaco War.
In the following decades the stadium received various refurbishments, among which one for the 1999 Copa América which was hosted by Paraguay. This also reduced capacity from its peak of about 50,000 places to just over 40,000.
In recent years further renovations and safety requirements have lowered capacity further to an estimated 32,000 seats.
Estadio Defensores del Chaco is also regularly used for high-profile Copa Libertadores matches of the Asunción clubs as well as for the local derbies.
How to get to Estadio Defensores del Chaco
Estadio Defensores del Chaco is located in the Sajonia area of Asunción, about 2.5 kilometres south-west from Asunción's city centre and about 9 kilometres west from the Carmelitas entertainment area in the east of the city.
The city's central bus terminal (Terminal de Omnibus), which lies in the south-east of the city, is about 8 kilometres from the stadium, and the international airport (in the north-east of the city) almost 20 kilometres.
The walk from the city centre takes about half an hour. From most other places one can either take a taxi or locally enquire about the appropriate bus (colectivo) routes.
Address: Mayor Martínez 1393, Asunción
Photos of Estadio Defensores del Chaco