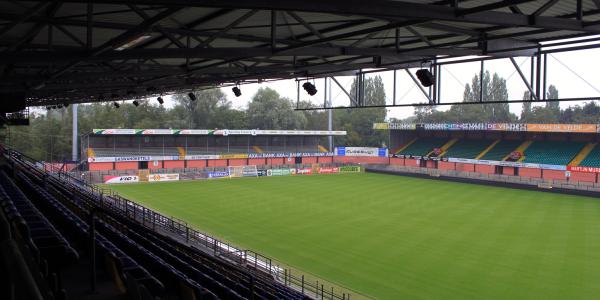 Key facts
Club: KSC Lokeren | Opening: 1956 | Capacity: 9,560 (4,440 standing)
History and description
The Daknamstadion got built in 1956, though the stadium back then only consisted of one stand and mainly served for athletics events and dog races.
In 1970, two clubs from Lokeren merged to form KSC Lokeren and a search was started for a stadium to play at, which ended at the Daknamstadion. New stands were built in 1974, which raised capacity to about 18,000.
By the 1990s, the stadium had severely aged and a new round of redevelopment works was started. Over a period of six years, starting in 1997, all stands got extensively renovated. In the following years, further minor renovations got performed on the stadium.
The Daknamstadion currently consists of stands on three sides of the pitch with one short end left open. Tentative plans to build a fourth stand have so far not resulted in concrete developments.
Getting there
The Daknamstadion is located on the northern edge of the small city of Lokeren, about 1.5 kilometres from its centre. The walk from the central market square takes only about 20 minutes. The walk from the train station, which lies just north of the centre, takes even shorter.
There is regular direct train service between Lokeren and Antwerp and Ghent.
If arriving by car from the E17 motorway that runs south of the city, take exit Lokeren. Take the N47 in the direction of the city and follow for about 6 kilometres. At the crossing with the N70 turn right (direction Daknam). After about 1.5 kilometres turn left into the Daknamstraat (sign Daknamstadion). The stadium lies a few hundred metres ahead on the right side of the road.
Address: Daknamstraat 91, 9160 Lokeren
Tickets
Tickets for Lokeren matches can be bought at the ticket office at the stadium. The ticket office opens Monday to Friday from 3:00 pm to 7:00 pm and Saturday from 10:00 am to 12:00 noon (only matchdays).
Tickets can also be bought on the gate on the day of the match. Lokeren only sells out the occasional high-profile match.
The price of a seat is either €19.00, €23.00, or €36.00. Standing costs €14.00. Prices are increased with €2.00 to €4.00 for five top matches.
For more information call +32 9 340 47 87.
Photos
Relevant Internet links

Sporting.be – Official website of KSC Lokeren.
B-rail.be – Check train times and fares.