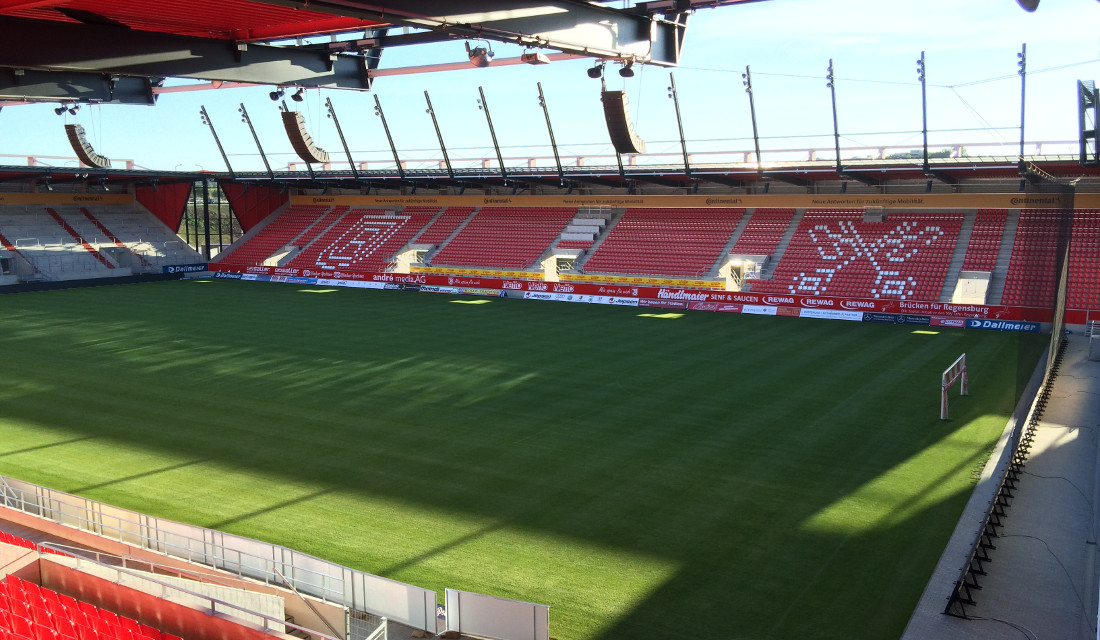 Key facts
Club: SSV Jahn Regensburg | Opening: 2015 | Capacity: 15,115 (6,150 standing)
History and description
Jahnstadion Regensburg, previously known as the Continental Arena, got built to provide Jahn Regensburg with a new modern home. It replaced the old Jahnstadion.
The stadium officially opened on 18 July 2015, though a first match, a test match between Jahn and a team of regional players, had already been played 11 days earlier.
The stadium came at a cost of 52.7 million euro. It was named Continental Arena following a naming right sponsorship deal with tyre manufacturer Continental. The stadium lost its sponsor name in 2020 when Continental decided not to renew their contract. It got named Jahnstadion Regensburg following a fan vote.
How to get to Jahnstadion Regensburg
Jahnstadion Regensburg is located on the southern edge of the city of Regensburg at roughly 3 kilometres from Regensburg's main railway station and a kilometre more from the historic centre.
The stadium lies right next to the A3 motorway and is thus easily reached by car. Take exit 100a-Regensburg-Universität.
The stadium can about just be walked to from the main railway station. The walk takes a little over 30 minutes.
Alternatively, the stadium can be reached with bus 3, 20, or 21. Take bus 3 to Graß, bus 20 to Luckenpaint, or bus 21 to Alteglofsheim/Afhausen. All buses stop right at Jahnstadion Regensburg. Bus 20 and 21 depart from the main railway station while bus 3 can be caught from the historic centre (Dachauplatz) as well. Bus 3 is the most frequent, the journey takes about 12 minutes.
On matchdays, there are also shuttle buses that run from the railway station straight to the stadium.
Address: Franz-Josef-Strauß-Allee 22, 93053 Regensburg
Jahn Regensburg Tickets
Tickets for Jahn Regensburg matches can be bought online, at the Fanshop at Jahnstadion Regensburg, or at one of the other sales outlets, which include the Galeria Kaufhof department store at Neupfarrplatz 8 in the historic centre.
If still available, tickets are also sold at the ticket booths of the stadium on the day of the match.
Tickets cost either €28.00 or €34.00 for a seat at one of the sides or €12.00 for a standing place behind the goal. Tickets are €4.00 (standing €1.00) more expensive for a number of high-profile games. Tickets are also €2.00 more expensive if bought on the day.
Photos of Jahnstadion Regensburg
Useful websites
Ssv-jahn.de – Official website of SSV Jahn Regensburg.
Regensburg.de – Regensburg tourist information.