MAPEI Stadium – Citta del Tricolore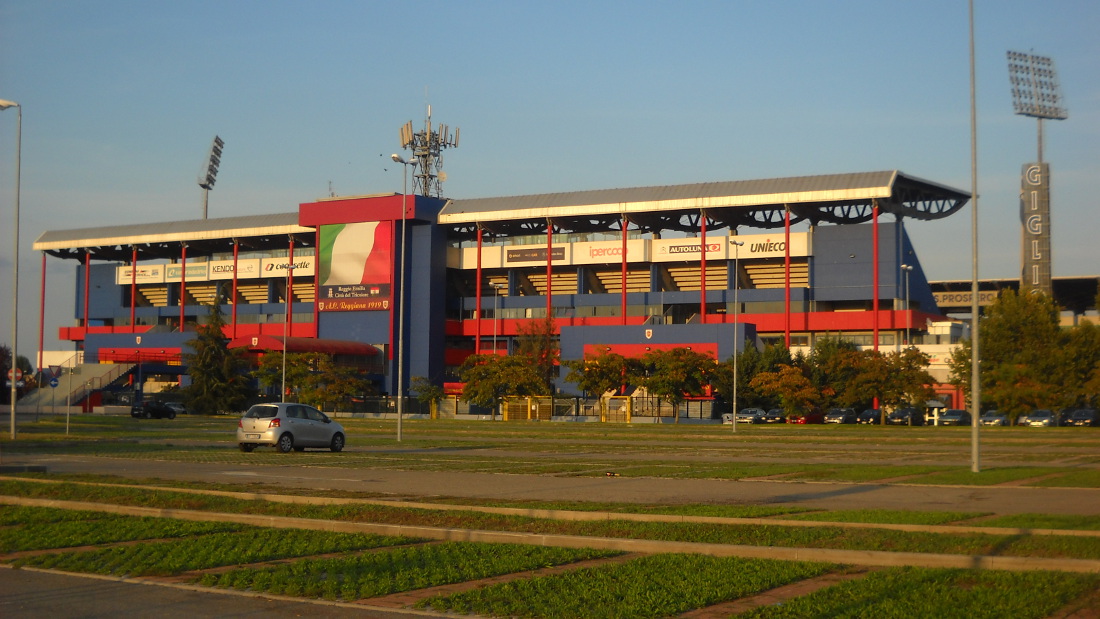 Key facts
Clubs: AC Reggiana 1919 & Sassuolo Calcio | Opening: 1995 | Capacity: 20,084 seats
History and description
MAPEI Stadium – Città del Tricolore, earlier called Stadio Giglio, was the first modern club-owned stadium in Italy. It got built in 1994 and officially opened on 15 April 1995 with a match between home side Reggiana and Juventus.
The stadium received a minor refurbishment in 2012, and at the same time got renamed Stadio Città del Tricolore.
In 2013, Sassuolo Calcio, newly promoted to Serie A and lacking a stadium with proper facilities in their home town, announced to have reached an agreement to make Stadio Città del Tricolore their home for the next two seasons. Sassuolo consequently decided to rename the stadium to MAPEI Stadium – Città del Tricolore.
How to get to MAPEI Stadium
MAPEI Stadium – Città del Tricolore is located on the north-eastern edge of the city of Reggio Emilia at about 2.5 kilometres from its historic centre. The distance from the train station, located east of the centre, is slightly shorter.
There is a frequent train service from Milan and Bologna to Reggio Emilia. You can either walk from there to the stadium, which takes about half an hour, or take bus 5. Take the bus in the direction of Mancasale Fiera and get off at stop Via Duo. Bus 5 runs through Reggio Emilia's historic centre as well.
If arriving by car from the A1, leave at exit Reggio Emilia. Pass the toll booth and turn onto the subsequent roundabout. Take the second exit following the little football symbol and sign Stadio. Keep following similar signs to get to the stadium.
Address: Piazzale Atleti Azzurri d'Italia 1, 42100 Reggio Emilia
Sassuolo Tickets
Tickets for Sassuolo games can be bought online, or at any of the Vivaticket sales points, of which the Bar Tabacchi Kukkuma news agent is the only one in Reggio Emilia's centre.
Ticket prices depend on the opponent. For a regular match, expect to pay between €20.00 for a seat behind the goal to €45.00 for a central seat at the main stand. For a match against a high-profile opponent, this can get increased to between €28.00 and €100.00.
Reggiana Tickets
Tickets for Reggiana games can be bought online through Ticketone, or at Edicola & Dintorni news agent at Corso Garibaldi 47 in Reggio Emilia's city centre, or at the Media World store at MAPEI Stadium.
Expect to pay between €9.00 and €18.00 for a ticket.
Photos of MAPEI Stadium
Relevant Internet links
Reggianacalcio.it – Offiicial website of AC Reggiana 1919.
Sassuolocalcio.it – Official website of Sassuolo Calcio.
Turismo.comune.re.it – Reggio Emilia tourist information.
Am.re.it – Regio Emilia public transport information.