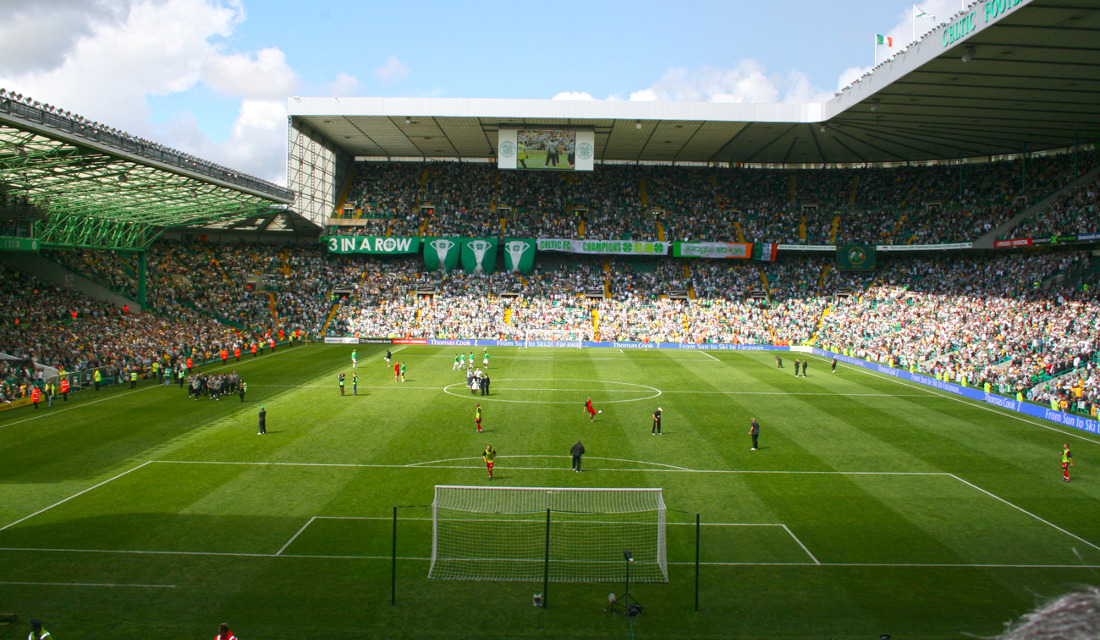 Key facts
Club: Celtic FC | Opening: 1892 | Capacity: 60,500 seats
History and description
Celtic Park has been the home of Celtic since 1892, when the club moved away from a nearby ground that was also called Celtic Park following a dispute over the rent.
Celtic Park officially opened on the 13th of August 1892 with the club's annual sports day. The first match was played a week later and saw Celtic beat Renton 4-3.
The stadium was initially oval-shaped with cycling track, pavilion, and one wooden stand at the Janefield Street side. Four years later, in 1898, a new grand stand was built on the other side. This was the first ever double-decker stand at a football ground and lifted capacity to over 50,000.
In 1904, the wooden Janefield Street Stand burned down and got replaced by a covered terrace, which would go by the name "The Hayshed".
In 1927, it was the turn of the double-decker Grand Stand to burn down, which got replaced in 1929 by a new Main Stand designed by Archibald Leitch. While the construction of the new Main Stand was still in progress, another fire engulfed the pavilion.
No further changes were made in the following decades. Celtic Park set its unofficial record attendances in 1938 when 92,000 spectators came to see the Old Firm. Official attendances never were higher than 80,000, Celtic Park's maximum capacity.
In 1957, the Celtic End received (partial) cover, and almost a decade later, in 1966, the Hayshed terrace received a new roof. In those times, the terrace was commonly referred to as "The Jungle", because of its poor state and fanatic fans.
In the late 1960s the Rangers End also received cover, and shortly after the Main Stand got extensively refurbished, including a new roof. Capacity got reduced to 60,000 due to safety measures following the Ibrox disaster.
Due to the precarious financial situation of Celtic in the 1980s and early 1990s, no further changes were made to Celtic Park until the take-over of Fergus McCann in 1994.
Funds were raised through a share issue, and a large redevelopment project was started. As this involved the demolition of both ends and the Jungle, Celtic was forced to play its 1994/95 home matches at Hampden Park.
Celtic Park reopened in 1995 with a newly built North Stand. Works continued on both ends, which were were completed in August 1998.
Celtic fans have used both Parkhead and Paradise as nicknames for Celtic Park.
(photos of the present Celtic Park below)
How to get to Celtic Park
Celtic Park is located about two miles east of Glasgow's city centre in the Parkhead area.
The stadium lies on London Road. Exiting the M74 at Tollcross, and then following London Road west for almost 2 miles brings you to the stadium. Continuing on London Road further west brings you to Glasgow's city centre.
If coming from the M8, exit at junction 14, and drive down south on Alexandra Park Street until reaching London Road. Turn left onto London Road and follow until you reach the stadium on your left.
Buses 43 and 64 bring you from the city centre to the ground. Take the bus on Ingram Street, and get off on London Road. Both buses run about every half an hour, and the journey takes 30 minutes.
Buses 61 and 62 pass the stadium on Gallowgate Road, just slightly further away. Both leave from Glasgow's Central Rail station.
Alternatively, one can take a train from Glasgow Central to Dalmarnock or Bridgeton rail stations (5-minute journey). Both stations lie about 10 to 15 minutes walking from Celtic Park.
From Glasgow Queen Street trains regularly depart for Bellgrove or Carntyne. The journey takes 5 minutes as well, but the walk to the stadium slightly longer (20 to 30 minutes).
Address: Celtic Park, Glasgow, G40 3RE
Eat, drink, and sleep near Celtic Park
Celtic Park is located in a rather bare area which is a mix of some old industrial buildings and residential housing. There are a few pubs, most around Gallowgate north of the stadium, but eating and drinking in Glasgow's city centre is likely a better option.
The Merchant City area in the east of the centre is conveniently located for drinking. From there you can catch a bus or train (Argyle Street), or even walk to the stadium. Other nightlife areas are around Sauchiehall Street and Bath Street in the city centre, or in the West End.
There are no hotels near Celtic Park, but a good few in the Merchant City area. The Brunswick Merchant City Hotel, Mercure Hotel, Rab Ha's, and Holiday Inn Express are all affordable options that get good reviews. Click here for all hotels in the Merchant City area, and here for all hotels in central Glasgow.
If you arrive by car, the Premier Inn at the exit off the M74 may be an alternative. It can even (just) be walked from to the stadium.
Celtic Tickets
Tickets for Celtic FC matches can be purchased online, by phone +44 (0) 871 226 1888, in person at the Celtic Ticket Office at the stadium, or at one of the selected retail outlets (e.g. on Sauchiehall Street or Argyle Street).
On the day of the match the Celtic Ticket Office is opened until kick-off. In recent years attendances at Celtic matches have slightly dropped, and tickets will be easily available for most regular league matches.
Tickets cost £26.00 for all stands except some central seats at the Main Stand, which cost £31.00. Some seats with restricted view go for a little less.
You can find a seating plan here. For more information call +44 (0) 871 226 1888 or email homematches@celticfc.co.uk.
Celtic Park stadium tours
Celtic offer guided stadium tours around Celtic Park that last about 90 minutes. On matchdays there are tours that last 60 minutes.
Tours leave every day of the week at 11:00 am, 12 noon, 1:45 pm, and 2:30 pm. On Saturday matchdays tours leave at 9:30 am, 10:00 am, 10:30 am, and 11:00 am. On non-Saturday matchdays there are no tours.
The tour costs £8.50. Bookings are not necessary, but highly advised and can be made by calling +44 (0) 871 226 1888 or emailing stadiumtours@celticfc.co.uk.
Photos of Celtic Park
Relevant Internet links
Celticfc.net – Official website of Celtic FC.
SeeGlasgow.com – Official guide to metropolitan Glasgow.
Firstgroup.com – Information about bus timetables and fares.