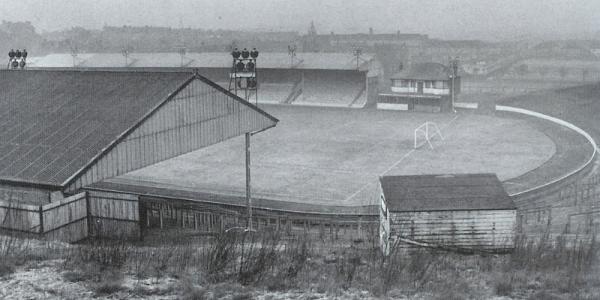 Key facts
Clubs: Queens Park FC and Third Lanark FC | Opening: 1884 | Closing: 1967 | Maximum capacity: 50,000
Description
Cathkin Park was in the late 19th century one of the prime football stadiums of Scotland. It was for most of its existence the home of Third Lanark FC.
The stadium got built though to serve as the new home for Queens Park FC, who had been forced out of their previous one because a railroad line was planned to run through the site.
Cathkin Park opened in October 1884 with a match between Queens Park and Dumbarton (0-0). At that time the ground was still called Hampden Park, just like Queens Park's previous ground.
It soon became one of Scotland's major grounds, regularly hosting Scottish Cup finals and the occasional international.
Perhaps most famous of all was the "Championship of the World" match between Scottish Cup winner Renton and English FA Cup winner West Brom, won 4-1 by the Scottish. Another highlight includes the first ever Celtic-Rangers cup final in 1899 (2-0).
It, however, did not take long for the ground to become too small and Queens Park therefore requested more land to get the stadium expanded. These requests were refused though, and as a result the club started looking for a new site to move to.
They found this site just south of Cathkin Park and in 1903 moved to their third Hampden Park, which would also be the final Hampden Park.
After Queens Park had left the ground, Cathkin Park found a new occupant in Third Lanark FC. As soon as the new club moved in, they renamed it Cathkin Park (more precisely New Cathkin Park as they had previously played at a different ground with the same name).
Because over a disagreement on the take-over fee, Third Lanark almost completely rebuilt Cathkin Park. It is estimated that at that time about 50,000 people could pack the terraces.
Over the next decades the club remained a steady force in Scotland's top leagues, but suddenly from the mid 1960s trouble and infighting started, the club relegated, and in 1967 it was declared bankrupt.
The last professional match played at Cathkin Park had been a 3-3 draw against Queen of the South on the 25th of April 1967.
In the next decades the ground slowly fell into disrepair, but has never been completely demolished. There are currently still a few terraces left standing, though largely overgrown and in poor state. In recent years a group of volunteers started the task to renovate the ground.