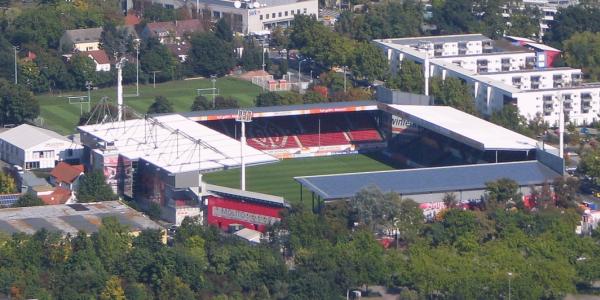 Key facts
Club: 1. FSV Mainz | Opening: 1929 | Closing: 2011 | Final capacity: 20,300
Description
The Bruchwegstadion was for over 70 years the home of 1. FSV Mainz.
Until 1937 Mainz played its home matches at Stadion Fort Bingen, but were forced to move to the Bruchwegstadion to make place for army barracks. The Bruchwegstadion, which had been built in 1929, at that time only consisted of one uncovered stand and a running track.
Mainz's stay at their new home was short-lived though, as they had to move away after the stadium had gotten severely damaged in the Second World War. It took until 1949 before the club could return.
In the 1950s the stadium got gradually improved and expanded and reached a capacity of about 20,000.
For the next major redevelopment had to be waited until 1981 though, and this only consisted of one of the principal stands receiving cover.
Overall the stadium remained a rather poor affair and few comforts were offered to the small crowds that showed up in Mainz's darkest years. In the decade that followed Mainz's relegation to the regional amateur leagues in 1976, the club struggled to attract a mere 1,000 spectators per game.
But by the late 1980s Mainz's fortunes slowly changed and with their promotion to the 2. Bundesliga the crowds gradually returned. For several high-profile matches the club even arranged removable bleachers for the empty southern end. Floodlights were finally installed in 1995.
In 1997 the temporary bleachers got replaced by a more permanent steel construction. At the same time a similar construction was erected on the other end of the stadium. Both new stands had cover.
In the early 2000s Mainz regularly challenged for promotion and the successes prompted the club to embark on a major renovation program. Two new stands got built, the main stand and at the opposite end, and further makeshift stands were installed to fill two of the four corners. All just in time for Mainz's promotion to the Bundesliga in 2004.
Their subsequent stay in the Bundesliga however also made it clear that the Bruchwegstadion was still not at a similar level of many of the newly built and renovated Bundesliga stadiums. Therefore only three years after the completion of their new stands, they already started to make plans to build a new stadium.
Two year later, in 2009, construction of the Coface Arena began, and in 2011 Mainz moved to their new home. Mainz played its last official match at the Bruchwegstadion on the 14th of May 2011 when the club defeated St. Pauli 2-1. In its final years the stadium could hold 20,300 spectators.