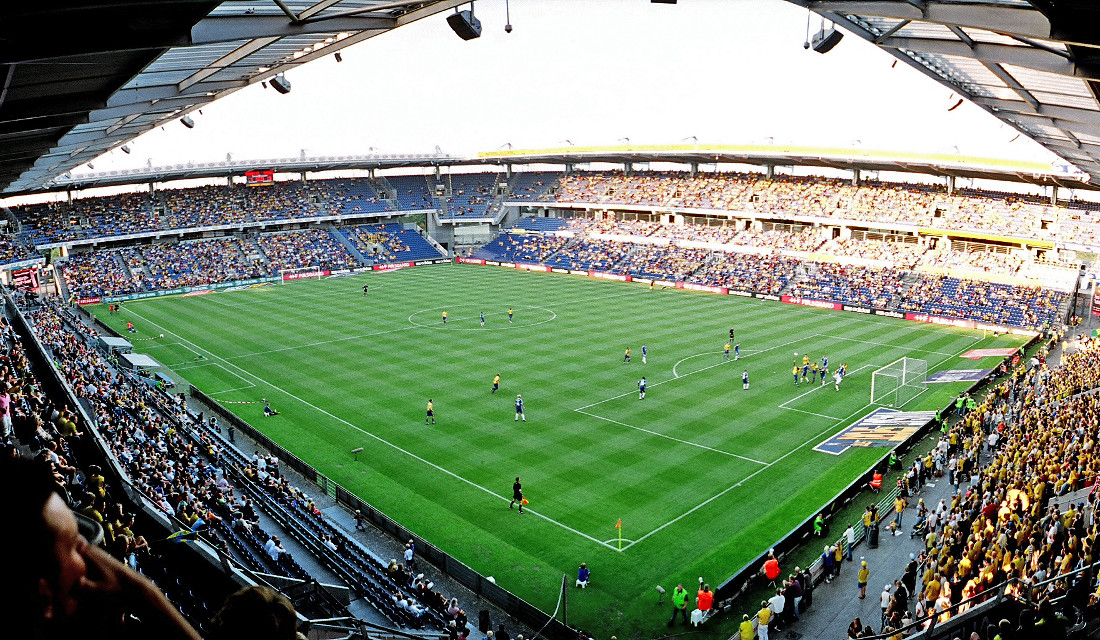 Key facts
Club: Brøndby IF | Opening: 1964 | Capacity: 29,000 (5,600 standing)
History and description
Brøndby Stadion got built in 1964, though at that time consisted of nothing more than a pitch, athletics track, and some low earth banks. The dressing rooms were located in a yellow brick building away from the stadium, which meant that players had to move through the crowd to get to the pitch.
Some minor improvements were made in the years following, but it took until 1978 for a first grandstand to be built. A few years later a concrete terrace was erected at the opposite side.
In 1990, the athletic tracks were removed, and further improvements were made to the stadium, including increased cover. After European successes in 1991 temporary scaffolding stands were erected, which brought capacity to 18,000. One year later the temporary stands were replaced with permanent ones.
Brondby Stadion remained with limitations though, especially in terms of capacity, and by the turn of the millennium the club decided to embark on a major redevelopment program.
The stadium was bought from the city and all stands were reconstructed. The completely redeveloped arena reopened on 22 October 2000.
Brondby Stadion also regularly gets referred to as Vilfort Park, after former Brøndby player Kim Vilfort.
How to get to Brondby Stadion
Brøndby Stadion is located in the Copenhagen suburb of Brondby (near to Glostrup). The stadium lies about 10 kilometres west of Copenhagen's city centre.
The stadium is an approximate 25-minute walk away from Glostrup train station. Regular S-tog trains (line B) run between the station and Copenhagen main rail station. The journey takes about 15 minutes.
On matchdays shuttle buses run between Glostrup station and the stadium (as well as from Brøndby Strand station, south of the stadium).
On non-matchdays you can catch bus 500S (from Glostrup Station) in the direction of Ørestad St. After a 5-minute ride get off at stop Brøndby Hallen. Buses run regularly.
There is no direct bus connection between the stadium and Copenhagen city centre.
Address: Brøndby Stadion 30, 2605 Brøndby
Eat, drink, and sleep near Brondby Stadion
Brondby Stadion is located in a quiet residential neighbourhood with little of interest. There isn't much around in terms of eating and drinking, which is better done in central Copenhagen. The Danish Sports Hall of Fame lies right next to the stadium and has free entrance if you're looking for some entertainment (opened Mon-Fri from 9:00-17:00).
If you're looking to stay close to the stadium, then Idrattens Hus, in the same building as the Hall of Fame, is the perfect choice. Otherwise, the options are limited, though Glostrup Park Hotel and Scandic Glostrup in Glostrup's centre are about just at walking distance (30 minutes).
Click here for an overview of hotels near Brondby Stadion. Most will decide to stay in central Copenhagen though – explore your options here.
Brondby Tickets
Tickets for Brøndby games can be bought online through Billetto, or at the Brondby Shop at the stadium.
Tickets can also be purchased at the turnstiles on the day of the match. Brondby hardly ever sells out a regular league match.
Tickets range in price from DKK 90-110 for a seat behind the goal to DKK 130-160 for a seat at one of the sides. Tickets are DKK 25.00 cheaper if bought in advance. Tickets are more expensive for the derby against FCK.
For more information email billeter@brondby.com or call +45 4322 5371.
Photos of Brondby Stadion
Relevant Internet links
Brondby.com – Official website of Brøndby IF.
Visitcopenhagen.com – Copenhagen tourist information.
Moviatrafik.dk – Information about Copenhagen bus travel.
Dsb.dk – Check train times and fares.
Rejseplanen.de – Public transport journey planner.