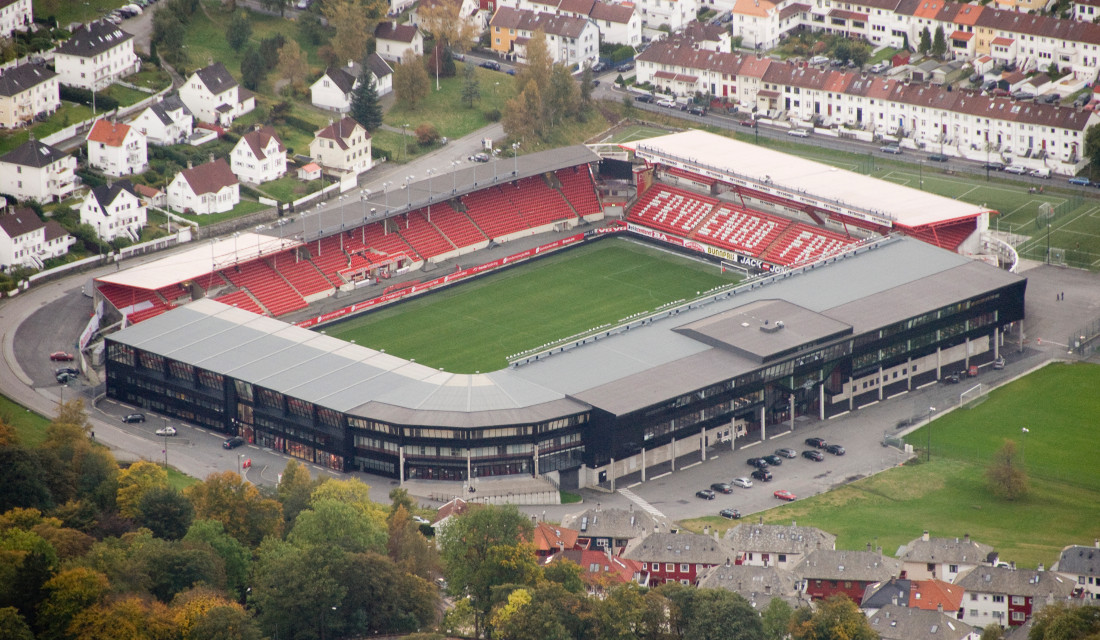 Key facts
Club: Sportsklubben Brann | Opening: 1919 | Capacity: 17,967 (1,000 standing)
History and description
Brann Stadion was built in 1919. It opened on the 25th of May of that year with a friendly between Brann and the Norway national team.
The stadium was initially oval-shaped with athletics tracks and terraces on both sides. A new seater main stand was built in the 1930s. Its highest attendance was recorded in 1961 when a total of 24,800 people attended a Nowegian Cup semi-final between Brann and Frederikstad.
In 1997, a new seater stand was built at one of the end, but the stadium remained outdated and Brann explored moving to an entirely new stadium.
In the end, Brann decided to further redevelop Brann Stadion, and between 2005 and 2007 three new stands were built including a new main stand.
How to get to Brann Stadion
Brann Stadion is located in the south-east of the city of Bergen, about 3.5 kilometres from its city centre and main train and bus station.
The stadium can be easily reached with Bergen's Bybanen light rail (tram), which only has one line. Get on the tram in the centre at, for example, Byparken or Bystasjonen (bus station), and get off at stop Brann Stadion.
Parking is limited around the stadium on matchdays.
Address: Kniksens plass 1, 5063 Bergen
Eat, drink, and sleep near Brann Stadion
Brann Stadion is located in a quiet residential neighbourhood. There isn't much around in terms of eating and drinking, which is better done in Bergen's city centre.
There aren't any hotels near Brann Stadion either, though Haukeland Hotel is a reasonable option a 15-minute walk away. You'll likely get more out of your stay if you're staying in Bergen's charming centre though, where there are plenty of hotels. Click here for an overview of hotels near Brann Stadion and here for an overview of hotels in Bergen's centre.
Brann Tickets
Tickets for SK Brann matches can be bought online, at the club shop at the stadium, or at the club shop at the Strandgaten 18 in the city centre.
Tickets can also be bought at the gates of the stadium on the day of the match. Brann's attendances are amongst the highest in Norway though and they do sell out the odd high-profile match so buying in advance is recommended.
Ticket prices can depend on the opponent, but expect to pay from NOK 200.00 to NOK 275.00 for a seat behind the goal and between NOK 325.00 and NOK 400.00 for a seat at one of the sides.
Photos of Brann Stadion
Relevant Internet links
Brann.no – Official website of SK Brann.
Visitbergen.com – Official website for Bergen and the region.
Skyss.no – Bergen public transport information.