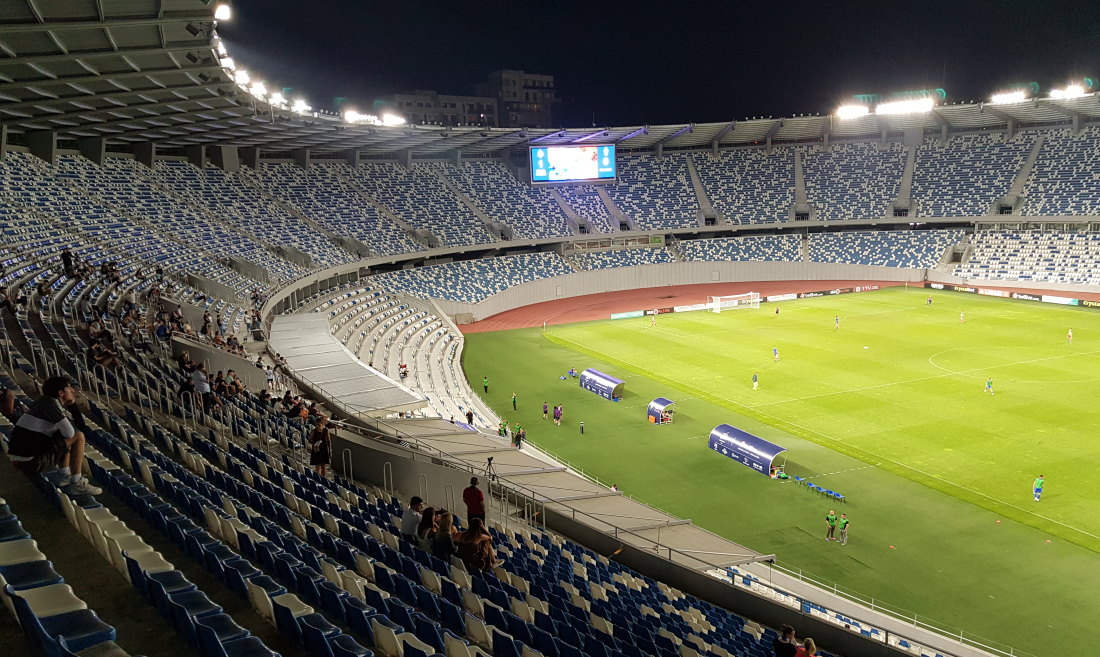 Key facts
Club: FC Dinamo | Opening: 1936 | Capacity: 54,139 seats
History and description
The Boris Paichadze Dinamo Arena, initially called Dinamo Stadium, opened in 1936. Construction had started in 1929, but works were soon suspended and only picked up in 1933.
The stadium could initially hold 23,000 spectators, which got increased in 1962 to 36,000.
Dinamo Stadium got almost entirely reconstructed between 1969 and 1976, resulting in a capacity of 78,000. The stadium reopened with a round of 16 Cup Winner's Cup match against Welsh side Cardiff.
The stadium recorded its highest attendance of 110,000 in 1979 when Dinamo hosted Liverpool in a round of 16 European Cup match.
Dinamo Stadium remained largely unchanged for the next three decades, and in 1995 got renamed Boris Paichadze National Stadium.
Boris Paichadze Stadium underwent an extensive refurbishment in 2006, which reduced capacity to its current number just under 55,000 seats. In 2011, the stadium got renamed Boris Paichadze Dinamo Arena, followed one year later by a smaller refurbishment including new seats.
In 2015, the stadium hosted the UEFA Super Cup final between Barcelona and Sevilla (5-4).
How to get to the Boris Paichadze Dinamo Arena
Boris Paichadze Dinamo Arena is located in central Tblisi a few blocks away from the main railway station just north of the city centre.
The stadium lies a little over 4 kilometre north from Freedom Square, which lies on the north-western edge of the old town, and 3 kilometres north from Rustaveli Square in the modern centre.
The closest metro station is Station Square at the main railway station. Station Square is on the red line 1 which passes most city centre locations.
Address: 2 Tsereteli Ave., 0112 Tblisi
Dinamo Tblisi Tickets
Dinamo tickets can be bought online through Biletebi.ge, or at the ticket windows of the Boris Paichadze Dinamo Arena in the week before and on the day of the match.
Expect to pay between GEL 2.00 and GEL 10.00 for a ticket.
Photos of the Boris Paichadze Dinamo Arena
Useful Internet links
Fcdinamo.ge – Official website of FC Dinamo.