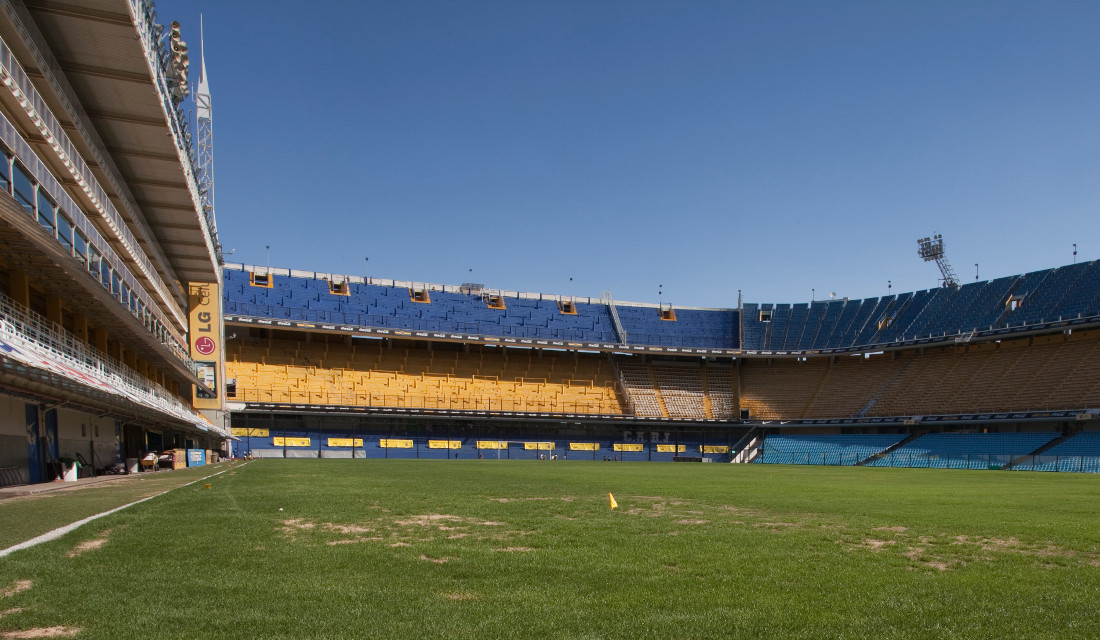 Key facts
Club: CA Boca Juniors | Opening: 1940 | Capacity: 49,000
History and description
La Bombonera was built between 1938 and 1940, and, as the legend goes, received its name because the architect suddenly realised the similarities between the stadium and a chocolate (bombon) he was eating.
Boca Juniors had already played at the site since 1924, which was until then a rather simple wooden stadium. After Boca bought the land in 1931, it therefore started making plans to build a new concrete stadium that could hold 100,000 fans.
La Bombonera officially opened on the 25th of May 1940 with a friendly between Boca Juniors and San Lorenzo (2-0), though it took until the end of 1941 for the second tier to be completed. A third tier was finally constructed between 1951 and 1953.
La Bombonera at that time had stands on three sides. The fourth side was left open with just a few VIP boxes and an obelisk, which was because of a lack of space due to the residential buildings just across the street.
Boca Juniors almost moved to a new 140,000-stadium in the 1970s, but political and economical turmoil ended the construction that had just begun.
In 1986, the stadium got named Estadio Alberto J. Armando in honour of the former iconic club president, but most fans have kept referring to the stadium as La Bombonera.
In 1996, the VIP boxes and obelisk on the open site were replaced by a small stand that was higher than the previous one, but again mainly consisted of VIP boxes.
Boca Juniors currently has plans to build a new stadium almost adjacent to La Bombonera, with a capacity of 75,000 seats divided over two tiers. La Bombonera will not get demolished though, but used for other purposes. Plans are still in preliminary stages.
(photos of the present La Bombonera below)
How to get to La Bombonera
La Bombonera is located south of Buenos Aires' city centre (Microcentro), at less than 4 kilometres from the Plaza de Mayo and 2 kilometres from popular nightlife area San Telmo.
La Bombonera is hard to access by car and it is advised to either take a taxi or go by public transport.
The stadium has no metro station in the vicinity, though the walk from the San Telmo area should take no more than half an hour.
There are also many buses (colectivos) that pass close to the stadium, of which most also cross the city centre (microcentro). Take one of the following colectivos in southern direction: 10, 20, 22, 24, 25, 29, 33, 39, 46, 53, 54, 64, 70, 74, 86, 93, 102, 129, 130, 152, 159, 168, or 186.
Address: Brandsen 805, Capital Federal
Eat, drink, and sleep near La Bombonera
La Bombonera lies in the middle of the working-class La Boca area, which has a slightly negative reputation in terms of safety, and therefore care should be taken at night. During the day, however, the area around the stadium is reasonably safe as it is located adjacent to the famous and touristy Caminito de la Boca with its coloured artist houses.
There are various restaurants and bars around the Caminito de la Boca, but the San Telmo area toward the north may be a better alternative, especially at night. Most of the places are in the area around Plaza Dorrego. From there it is less than 30 minutes walking to the stadium.
There are few hotels near La Bombonera, but plenty of options in the San Telmo area. Some of the best-rated, but also more expensive, options include Tiana Hotel Boutique, Telmho Hotel Boutique, Bohemia Hotel, and Hotel Babel. Expect to pay between US$ 60.00 and US$110.00.
Cheaper and more basic options include Hotel Carly, Hotel Chipre, and Hotel Casablanca. There are also many hostels in the San Telmo area. For an overview, click here.
Boca Juniors Tickets
Boca Juniors has stopped selling tickets to the general public and currently only allows club members to enter the stadium.
Tourists can make use of the many ticket agencies that offer packages, which however go for highly inflated prices.
Photos of La Bombonera
Relevant Internet links
Bocajuniors.com.ar – Official website of CA Boca Juniors.
Bue.gov.ar – Official website of the city of Buenos Aires.
Comoviajo.com – Public transport journey planner.