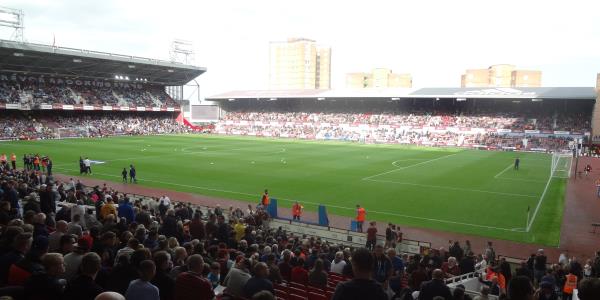 Key facts
Club: West Ham United FC | Opening: 1904 | Capacity: 35,016 seats
History and description
In the early 20th century, West Ham played their home matches at the Memorial Ground in Canning Town, but after a dispute over the rent they were forced to look for a new home. They found a bare field used by a Roman Catholic school and soon reached an agreement with the Catholic authorities for its use.
West Ham played their first match at Boleyn Ground on the 1st of September 1904. Just over 10,000 spectators saw the home side beat Millwall 3-0.
Boleyn Ground received its name from a house that stood next to the ground, called Boleyn Castle, and which supposedly had been home to Anne Boleyn. These days Boleyn Ground is more commonly referred to as Upton Park.
The ground was initially a basic affair, but got soon expanded – first in 1919 with a new East Stand and later in 1925 with a new West Stand and terracing at the short ends. This lifted capacity to about 40,000 places.
Boleyn Ground got heavily damaged in the Second World War when it got hit by a V-1 bomb, but was soon rebuilt.
In 1961 a roof was added to the North Bank, which meant that all stands had cover. The ground underwent its last major pre-90s change when in 1969 a new East Stand was built.
Boleyn Ground recorded its highest attendance of 42,322 during a match with Tottenham Hotspur in 1970.
The stadium underwent a major redevelopment in the mid 1990s when it got converted into an all-seater. The works included the construction of two new stands at the short ends and major refurbishments on the other stands. Boleyn Ground received its current shape in 2001 with the opening of a new West Stand, which raised capacity to its current level.
Despite these renovations, Boleyn Ground remained a limited ground with few options for expansion. West Ham therefore started looking into the options of moving away to a new ground, with the London Olympic Stadium soon appearing as the prime candidate.
After a long and drawn-out bidding process, West Ham were finally granted a 99-year lease on the Olympic Stadium in early 2013. The club are expected to move into their new home at the start of the 2016-17 season after the stadium will have undergone several adjustments, which will include the reconstruction of the bottom tier and the construction of a new roof. The resulting capacity will be 54,000 seats.
(photos of the present Boleyn Ground below)
Getting to Boleyn Ground
Boleyn Ground is located in the east of London, about 6 miles east of the City of London.
If arriving by car from the north circular A406, leave for Barking/East Ham A124. Turn west onto Barking Road, continue for about 1.5 miles, and turn right into Green Street.
If coming from the City, take the A13 east to Canning Town, then follow the signs for East Ham A124, and after a little more than 1.5 miles turn left into Green Street. There are few parking possibilities on the day of the match though.
The nearest tube station is Upton Park at a few minutes walking from the ground. Upton Park is served by both the District and Hammersmith & City line. The journey from either Monument or Liverpool Street station in the City takes about 20 minutes.
Due to long queuing at Upton Park after the match, one can opt to walk to either Plaistow or East Ham tube stations (both on the same line), or north to Forest Gate train station.
Buses that serve the stadium are line 5 (from Romford and Canning Town), 58 (from Walthamstow), 104 (from Stratford), 115 (from Aldgate), and 376 (from Beckton). These buses either pass the stadium on Barking Road or on Green Street.
Address: Green Street, Upton Park, London E13 9AZ
Eat, drink, and sleep near Boleyn Ground
Boleyn Ground is located in the West Ham – Upton Park area, which isn't one of London's best and has little around in terms of entertainment. There are a few pubs and places to eat along Barking Road, though these fill up quickly on matchdays and it may therefore be more convenient to eat and drink in Central London.
West Ham have got their own hotel located in the ground, the West Ham United Hotel, which offers good value for those wishing to stay near the stadium, though availability tends to be limited on the day of the match.
Otherwise, the hotels around Boleyn Ground are all of the basic type: The Central Hoteland Newham Hotel both go for around £50.00 a night. Ruskin Hotel falls in the middle range, but is already quite far away.
Alternatively, there are the chain hotels Ibis Barking and Premier Inn in Barking, an approximate 20 to 30-minute walk from the stadium. There are also a few pubs and restaurants in the area. For an overview of all hotels near Boleyn Ground click here.
That said, if you plan to spend more time in London than just to see the match, staying in Central London will definitely have your preference.
West Ham United Tickets
Tickets for West Ham United games can be bought online, by phone +44 (0) 871 222 2700, or in person at the Ticket Office at the stadium.
If tickets remain, these can be bought at the stadium's ticket office from 2 to 3 hours before the match. This only happens occasionally though and you will be wise to buy your tickets in advance.
West Ham's home matches fall into two pricing categories. Prices for category B matches, the cheapest, range in price from £43.00 for a seat behind the goal to £60.00 for a central seat at one of the long sides. Tickets for category A matches cost between £55.00 and £75.00.
For more information email ticketoffice@westhamunited.co.uk.
Photos of Boleyn Ground
Relevant Internet links

Whufc.com – Official website of West Ham United FC.
Visitlondon.com – Official London city guide.
Tfl.gov.uk – Website of the London Underground and other London public transport.
Journeyplanner.org – London public transport journey planner.