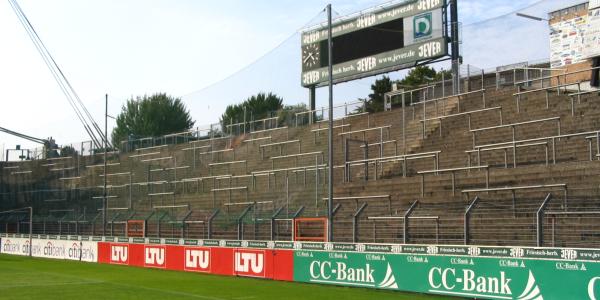 Key facts
Club: Borussia Mönchengladbach | Opening: 1919 | Closing: 2004 | Final capacity: 34,500
Description
The Bökelbergstadion was for more than 80 years the home of Borussia Mönchengladbach until it got replaced by the new Borussia-Park.
Construction of the stadium was about to start in 1914 when the First World War broke out. It therefore took until 1919 for the stadium to be completed. It officially opened on the 21st of September of that year.
Initially the stadium was called Westdeutsches Stadion, or de Kull, after the den in which the stadium was built. It was only in the late 1950s when the name Bökelberg took root. By that time the stadium also got extensively renovated, resulting in a capacity of about 32,000, mostly standing places.
In the following years only minor renovations (a second tier and roof on the main stand) were made. With a capacity of 34,500 the stadium remained relatively small and its facilities were limited.
By the 1990s Borussia therefore started looking into building a new stadium, and in 2002 construction started of the Borussia-Park. The last match played at the Bökelberg was a Bundesliga match between Borussia and TSV 1860 (3-2) on the 22nd of May 2004.
For a few years the Bökelbergstadion remained standing without use, but in 2006 the stadium got demolished and replaced by a housing development.