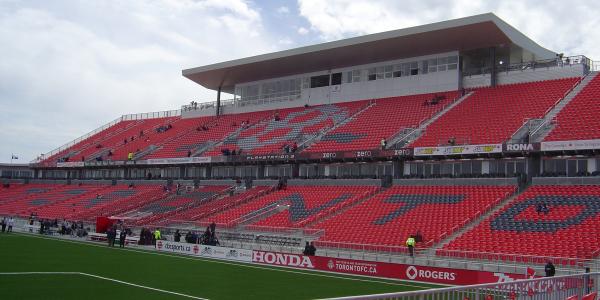 Key facts
Club: Toronto FC | Opening: 2007 | Capacity: 30,991 seats
History and description
BMO Field was built to provide Major League Soccer expansion team Toronto FC with a soccer-specific home and to serve as the flagship venue of the 2007 U-20 FIFA World Cup. It was Canada's first soccer-specific stadium.
BMO Field officially opened on 28 April 2007 with a league match between Toronto FC and the Kansas City Wizards (0-1).
In 2014, the stadium got expanded with a total of 8,400 seats and new hospitality facilities. In a second phase of renovation works, a roof will be erected over three of the four stands of the stadium. The initial expansion came at a cost of CAD 65 million, while the second phase will cost and additional CAD 40 million.
How to get to BMO Field
BMO Field is located on the waterfront of Lake Ontario, about 3 kilometres west of downtown Toronto, the CN Tower and Toronto Union Station.
The stadium lies on the grounds of Toronto Exhibition Place and is bordered by the Gardiner Expressway to the north.
If coming from the Gardiner Expressway east, take the exit for Lake Shore Blvd/Jameson Ave. Follow Lake Shore Blvd for about a kilometre and turn left onto Ontario Drive and the Exhibition Place grounds.
From the Expressway west, leave for Lake Shore Blvd and either enter the Exhibition Place grounds at Newfoundland Road or Ontario Drive.
BMO Field lies a short walk away from GO train station Exhibition, which is one stop west from Toronto Union Station on the Lakeshore West line. Trains leave about once an hour for the 5-minute journey.
Alternatively one can take tram (streetcar) 509 from Union Station. Take the tram westbound to the Exhibition Loop. Trams run multiple times an hour.
From Bathurst Metro Station (not far from the University of Toronto campus) one can take tram 511 southbound to the Exhibition Loop.
Address: 170 Princes Boulevard, Toronto, ON, M6K 3C3
Toronto FC Tickets
Tickets for Toronto FC matches can be bought online via Ticketmaster, by phone +1 416 360 4625, or at the BMO Field Ticket Office.
On the day of the match the ticket office is opened for ticket sales until the start of the second half.
Toronto FC operates two pricing categories for MLS league games. Regular tickets range in price from CAD 27.00 to CAD 97.00, whereas tickets for premium matches cost between CAD 41.00 and CAD 121.00.
Photos of BMO Field
Relevant Internet links

Torontofc.ca – Official website of Toronto FC.
Seetorontonow.com – Toronto tourist information.
Gotransit.com – Information on the Go Train transport system.
TTC.ca – Toronto public transport information.