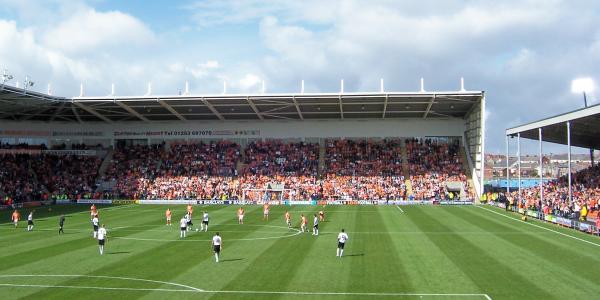 Key facts
Club: Blackpool FC | Opening: 1889 | Capacity: 16,007 seats
History and description
Football had been played at the site of Bloomfield Road since 1887, when in 1899 a modest stadium was built. The first match at the new stadium was played on the 21st of October of that year between South Shore FC and the 1st South Lancashire Regimen. South Shore FC would soon after merge with Blackpool FC.
Bloomfield Road got quickly expanded in the following decades resulting in a capacity of over 20,000 by the mid 1920s. In 1930, a new north terrace (Spion Kop) was built to raise the capacity to just over 30,000.
No further developments were made until in 1954 the East Paddock was extended. By the mid 1960s the stadium could hold 38,000 fans, but this was soon reduced when several standing areas were converted into seats. At the same time the Spion Kop received (partial) cover.
By the 1990s, Bloomfield Road had fallen into disrepair and increased safety requirements meant further reductions in capacity.
Several initiatives were launched to build a new stadium, but all failed to materialise. In 2000, the club changed course and presented plans to redevelop the existing ground.
One year later the Spion Kop and West Stand were demolished and replaced by new stands. In 2003 it was the turn of the East and South Stand to get demolished, however no new stands were built yet.
It took until 2010 for a new South Stand to be built. Temporary structures occupied the East End, which were gradually improved, most recently in 2011.
(photos of the present Bloomfield Road below)
Getting there
Bloomfield Road is located in central Blackpool, just south of Blackpool town centre and at only a few hundred metres from the Promenade (between the South and Central Pier).
Blackpool South rail station lies at just a 5 to 10-minute walk away from the ground, though the station is only served by regional trains. From Blackpool's main rail station (North) it is a 20 to 30-minute walk to the ground.
At entering Blackpool from the M55, first follow for A583 Blackpool / N'Shore, and next for the B5390 toward the Town Centre. After about 500 metres on the B5390 turn left onto Bloomfield Road. Follow until you see the stadium on the right side of the road.
Address: Seasiders Way, Blackpool, FY1 6JJ
Tickets
Tickets for Blackpool games can be bought online, by phone +44 (0) 844 847 1953, or at the ticket office at Bloomfield Road. Online purchases can only be made by second-time buyers.
Tickets cost either £24.00 or £25.00.
For more information email ticketoffice@blackpoolfc.co.uk.
Relevant Internet links

Blackpoolfc.co.uk – Official website of Blackpool FC.
Visitblackpool.com – Blackpool tourist information.
Nationalrail.co.uk – Check train times and fares.