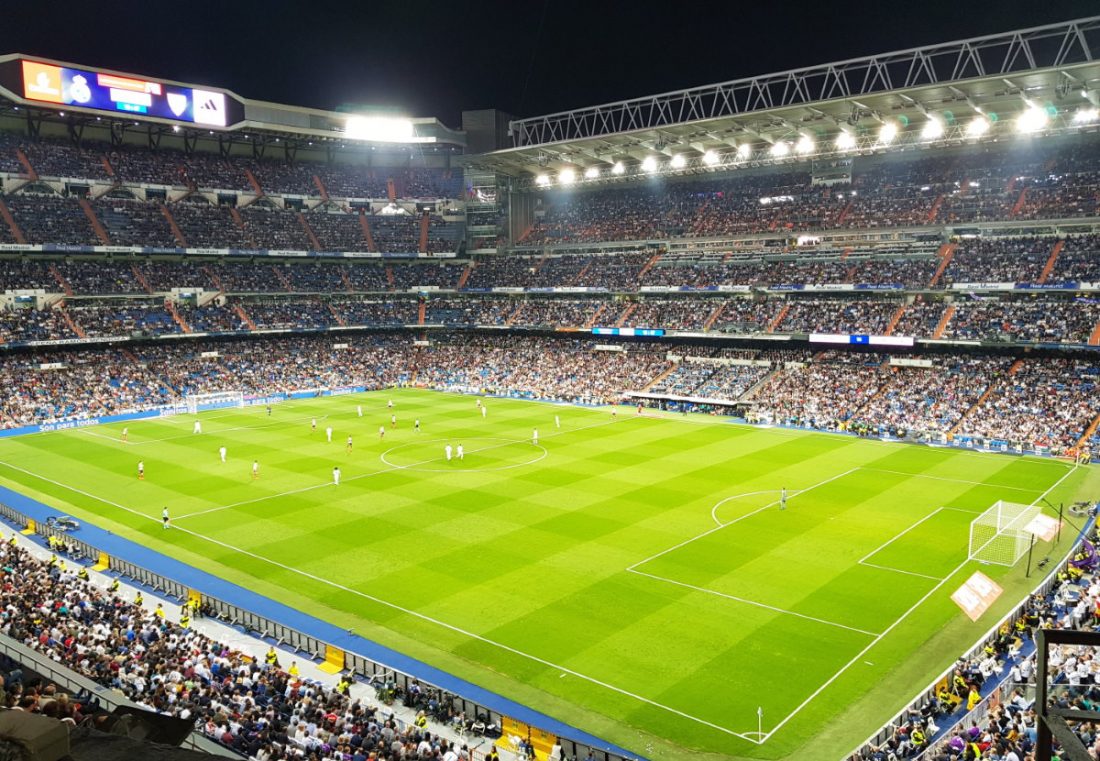 Key facts
Club: Real Madrid CF | Opening: 1947 | Capacity: 81,044 seats
History and description
In the early parts of the 20th century, Real Madrid first played at Campo De O'Donnell, and then moved to the larger Campo de Chamartín in 1924.
In 1943, Chamartin had already become too small again, and club-president Santiago Bernabéu decided that Madrid needed a new and modern 100,000-stadium.
This new stadium got built at the same site of Campo de Chamartín. Construction began in 1945, and on the 14th of December 1947 Estadio Santiago Bernabéu officially opened with a match against Portuguese champions OS Belenenses (3-1).
The stadium was initially still called Nuevo Estadio Chamartin, but received the name of the club-president eight years later.
At that time, Estadio Santiago Bernabéu consisted of two uncovered tiers that could hold just over 75,000 spectators. Capacity was further increased to 125,000 in 1954, when one of the long sides got expanded with a third tier.
The Bernabéu was together with Camp Nou playing venue of the Euro 1964 Championships, hosting one of the two semi-finals and the final between Spain and the Soviet Union (2-1).
Towards the end of the 1970s, the stadium had already started to age, and club officials started making plans to build a new stadium in the north of the city.
However, with the perspective of the 1982 World Cup it was instead decided to renovate the Bernabéu, which included the construction of a roof over the three two-tiered stands and the installation of seats in half of the stadium. As a result, capacity was reduced to 90,800 places.
During the 1982 World Cup, Estadio Santiago Bernabéu hosted three matches in the second group stage and the final between Italy and West Germany (3-1).
In the 1990s, UEFA required the stadium to become an all-seater, which would have reduced capacity to 50,000 seats. Club president Mendoza therefore started an extensive redevelopment program that included extending the third tier over the entire stadium, the creation of corporate facilities, and four access towers in each corner of the stadium. Works started in 1992 and were completed two years later.
Estadio Santiago Bernabéu got further refurbished an upgraded between 2001 and 2006. Works most of all focused on improving corporate facilities, and were concluded in 2006 with the construction of a roof over the one remaining uncovered stand.
In its history, Estadio Santiago Bernabéu has hosted four European Cup and Champions League finals. The first final was in 1957 between Real Madrid and Fiorentina (2-0), the second in 1969 between AC Milan and Ajax (4-1), the third in 1980 between Nottingham Forest and Hamburg (1-0), and the last one in 2010 between Internazionale and Bayern Munich (2-0).
In 2012, Real Madrid presented plans to further upgrade the stadium with commercial and corporate facilities, and to increase capacity to over 90,000 seats. Four architects were asked to present designs, from which the winner was chosen later in 2013. However, the project was first put on hold due to an investigation of the European Union into the granting of illegal state aid, and later rejected by the Madrid city council.
A few years later, in 2017, revised plans were presented to upgrade the stadium with a new exterior, retractable roof, and hospitality facilities, leaving capacity the same. Works started in 2019 and were planned to be performed over a two-and-a-half year period while Real would keep playing at the stadium. However, when the Covid-19 pandemic hit in 2020 and matches were forced to be played behind closed doors, works were accelerated and Real Madrid moved their home games to Estadio Alfredo de Stefano of their reserves team.
(photos of the present Estadio Santiago Bernabéu below)
How to get to the Bernabeu
Estadio Santiago Bernabéu is located in central Madrid on the Paseo de la Castellana, one of Madrid's principal avenues. The stadium lies about 4 kilometres north of the Plaza de Cibeles, where the Paseo de la Castellana originates. It is a similar distance from Puerta del Sol, one of Madrid's main squares.
The stadium is best reached by metro line 10. Stop Santiago Bernabeu lies right next to the stadium. In the centre, line 10 can be caught at Plaza de España or Tribunales, but can otherwise be reached with a transfer (e.g. line 1 from Puerta del Sol or Atocha train station).
From Atocha, Paseo del Prado, or Plaza de Cibeles one can also take bus 14 or 27 to get to the stadium. Take bus 14 in the direction of Avenida Pio XII. It passes the stadium on the Paseo La Habana. Take bus 27 in the direction of Plaza de Castilla, and get off at Plaza Lima, right in front of the stadium.
From metro station Callao in the city centre, one can take bus 147. Take the bus in the direction of Barrio del Pilar and get off at Plaza Lima.
From Puerta del Sol one can take bus 150 in the direction of Colonia Virgen del Cortijo. Again, get off at Plaza Lima.
Address: Avenida de Concha Espina 1, Madrid
Eat, drink, and sleep near the Bernabeu
Estadio Santiago Bernabéu is located on the large tree-lined Paseo de la Castellana avenue, one of Madrid's principal arteries. The area around the stadium is a mix of mostly offices, shops, and residential buildings, but there are enough bars and coffee shops mixed in to find something to eat or drink.
The number of bars and restaurants increase while you walk south in the direction of Madrid's centre. Most nightlife is located in the northern parts of the centre.
There are a fair few hotels near the Bernabeu. The Holiday Inn Madrid, AC Hotel Aitana, and Rafaelhoteles Orense are closest, get good reviews, but are far from cheap.
Only slightly further away are Espahotel Plaza Basílica, Hotel Gran Atlanta, Hostal Falfes, Hostal Los Ángeles, and Sunotel Amaral. They get good reviews, are all close to several metro stations, tend to be reasonably priced between €50.00 and €100.00 per night, and no further than 20 minutes walking from the Bernabeu.
Click here for an overview of all hotels near Estadio Santiago Bernabeu. If you prefer to stay in the city centre or elsewhere, these are your options.
Real Madrid Tickets
Tickets for Real Madrid games can be bought online through the official website or Ticketmaster, or at the ticket windows (taquillas) of Estadio Santiago Bernabéu.
Tickets that are bought online can be picked up at the printing kiosks at the stadium.
Regular tickets tend to go on sale in the week before the match, though VIP tickets are available earlier. There is generally not much reason to buy a VIP ticket as Real Madrid only sell out a few high-profile matches per season and tickets for most matches are easily available if bought in advance.
For those matches that do sell out, e.g. El Clásico, the Madrid derby, and high-profile Champions League matches, you might have to revert to the secondary market. The likes of viagogo and Stubhub offer good choice and tend to be reliable, though can get expensive. Prices for regular matches tend to be fairer though or even lower than face value and can offer an alternative for those wanting to book their tickets longer in advance.
Ticket prices depend on the opponent, but typically start at €30.00 for a seat behind the goal and €40.00 for a seat at one of the sides.
Stadium tours
Real Madrid offer self-guided stadium tours, during which you follow a route through the stadium. The route includes the dugouts, presidential box, press room, changing rooms, players' tunnel and trophy room, and ends in the club shop.
The stadium is opened Mondays to Saturdays from 10:00 am to 7:00 pm, and Sundays and public holidays from 10:30 am to 6:30 am. On matchdays the tour is open until 5 hours before kickoff (though with limited access).
No reservations are required, though the tour can be booked online. Entrance costs €25.00 with further premium options available.
Photos of the Bernabeu
Useful websites
Realmadrid.com – Official website of Real Madrid CA.
Esmadrid.com – Official guide for the city of Madrid.
Metromadrid.com – Travel information for the Madrid metro.
Emtmadrid.es – Madrid public transport information.