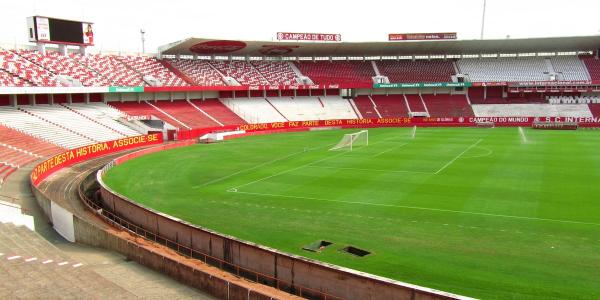 Key facts
Club: Sport Club Internacional | Opening: 1969 | Capacity: 56,000 (until 2010)
History and description
Construction of Estádio Beira-Rio started in the late 1950s. The 1950s had been a decade of great successes for Internacional and their Estádio dos Eucaliptos had become too small.
In 1956, the city of Porto Alegre therefore donated the club a site in the river Guaíba, which it first had to drain before it could start construction.
Building works finally started in 1959, but due to a lack of finances Internacional heavily relied on fans contributing the bricks, cement, and iron works. As a result, works progressed very slowly and it took a decade for construction to complete.
Estádio Beira-Rio officially opened on the 6th of April 1969 with a friendly against Benfica (2-1). The stadium would soon receive the nickname O Gigante.
Estádio Beira-Rio hardly changed over the next decades. It was only when it got chosen as one of the playing venues of the 2014 World Cup, that an extensive redevelopment was announced.
Redevelopment works started in December 2012, but got soon plagued by financing issues and consequent delays. Works are currently expected to be completed in late 2013.
The redevelopment includes the demolition and reconstruction of the lower-tier, and the construction of a new exterior and roof. The result will be a capacity of 51,000 seats, though in the meantime capacity will be temporarily reduced.
During the 2014 World Cup, Estádio Beira-Rio is set to host four group matches and one round of 16 match.
Getting there
Estádio Beira-Rio is located in the south of Porto Alegre on the banks of the river Guaíba. It lies about 3.5 kilometres from Porto Alegre's historic city centre.
There are plenty of options to reach the stadium by public transport.
Bus 149, 1491, 165, 171, 173, 179, 184, 187, R1, R3, and R5 can all be taken from the Av. Salgado Filho in the historic centre
Bus 110 and 111 can be taken from the Avenida Loureiro da Silva. Bus 188 from the Rua Uruguai or Avenida Loureiro da Silva. All buses pass right by the stadium on the Avenida Padre Cacique.
Address: Avenida Padre Cacique 891, Porto Alegre
Tickets
Tickets for SC Internacional games can be bought online, by phone +55 (51) 3299 3399, at the ticket windows of Estádio Beira-Rio, or at any of the Americanas or Blockbuster stores.
There are, for example, Americanas stores at the Rua dos Andradas 1001 and 1305 in the historic centre, as well as at several shopping centres.
Tickets are also generally available at the ticket windows of the stadium on the day of the match. Identification is required to be able to buy tickets.
Prices depend on the opponent. They typically range between R$40.00 and R$100.00, but at times start at either R$50.00 or R$60.00.
Stadium tours
SC Internacional offers guided stadium tours that include the away dressing room, players' tunnel, VIP areas, and the club museum. During the renovation works there will be no access to the pitch. Tours last about 60 minutes.
Tours run from Tuesday to Saturday between 10:30 am and 5:00 pm. On matchdays different opening times apply.
Bookings are not required, but are recommended nonetheless. They can be made by phone +55 (51) 3230 4669 or email visit@internacional.com.br. The tour costs R$20.00. Entrance to the museum only costs R$10.00.
Photos
Relevant Internet links

Internacional.com.br – Official website of SC Internacional.
Sts.com.br – Porto Alegre public transport information.