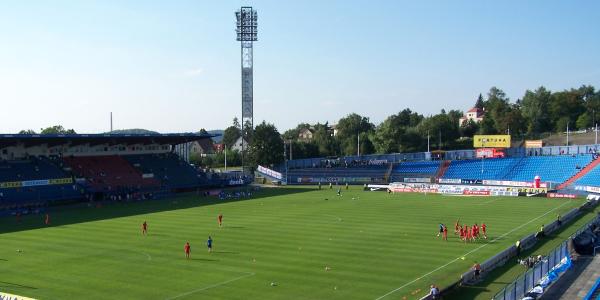 Key facts
Club: FC Baník Ostrava | Opening: 1959 | Capacity: 17,372 seats
History and description
Stadion Bazaly was built in the 1950s as a replacement for Baník's old Stará Střelnice stadium, which failed to meet league requirements.
Stadion Bazaly officially opened on the 19th of April 1959 with a match between Baník and Ústí na Labem (2-3). It could initially hold about 30,000 spectators.
The stadium remained mostly the same for the next four decades until it underwent several renovations in the early 2000s. These included the construction of a small new main stand with VIP facilities.
Stadio Bazaly has significantly aged over the years, and currently needs dispensation to host top league matches. It does not have permission to host any international matches.
Getting there
Stadion Bazaly is located just over a kilometre north-east of Ostrava's old town. The walk from the central market square takes about 20 minutes.
From Ostrava's main rail station, which lies further toward the north, it is a good 30 minutes walking to the stadium.
Alternatively, one can take trolleybus 101 to the stadium. Take the bus in the direction of Michálkovice and get off at stop Stadion Bazaly. The journey takes just over 10 minutes.
Trolleybus 108 toward Sokola Tumy is an alternative, but takes a little longer to arrive.
From the old town one can also catch trolleybus 104 and 109. Take the buses from Českobratrská avenue and get off at stop Stadion Bazaly. It is a short journey.
If arriving by car, follow directions to Ostrava's old town and then take Českobratrská east over the bridge. The stadium lies shortly ahead on the right side of the road after a left curve.
There is few parking space available in the vicinity of the stadium.
Address: Bukovanského 4/1028, 710 00 Slezská Ostrava
Tickets
Tickets for Baník Ostrava matches can be bought at the club office at the stadium, or at the information desk of shopping centre Futurum (just over a kilometre west of the old town).
Tickets can also be bought one the gate from an hour before kickoff.
Ticket prices start at CZK 60.00 for a seat behind the goal and range up to CZK 150.00 for a seat at the covered main stand.
Photos
Relevant Internet links

Fcb.cz – Official website of FC Baník Ostrava.
Ostrava.cz – Ostrava tourism information.
Dpo.cz – Ostrava public transport information.