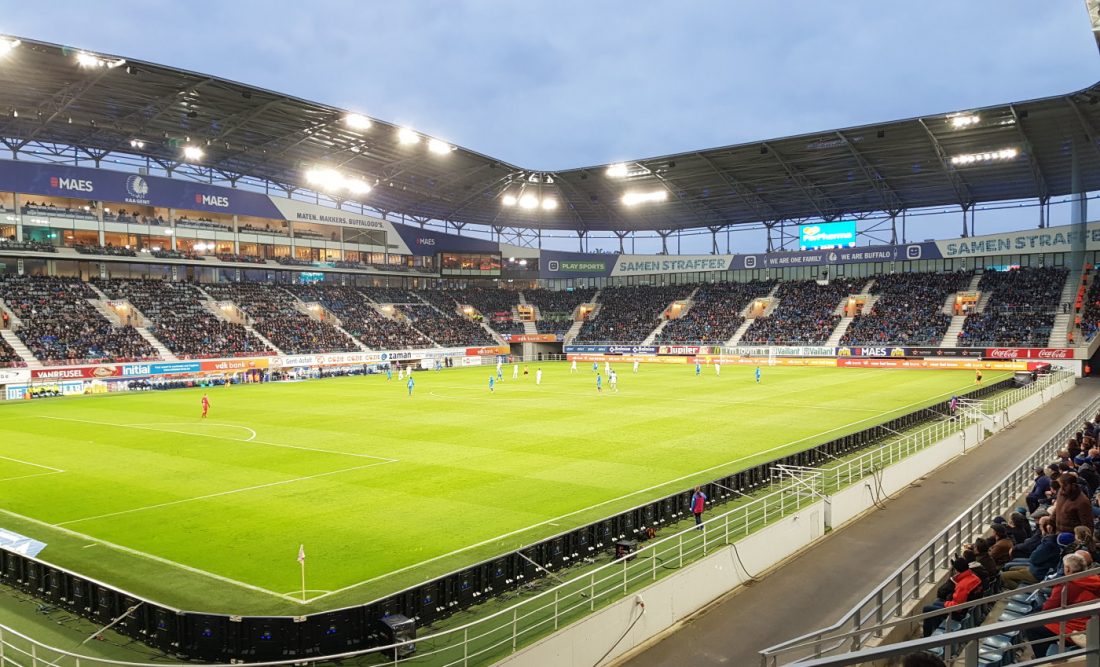 Key facts
Club: KAA Gent | Opening: 2013 | Capacity: 20,000 seats
History and description
The Ghelamco Arena, also known as Arteveldestadion, is the new home of KAA Gent that opened in 2013.
The club had long sought to build a modern replacement for their Jules Ottenstadion, with first plans being presented as early as 2003. However, a series of problems including funding difficulties and environmental concerns significantly delayed the project.
Construction eventually started in 2011 and the stadium was expected to be finished before the start of the 2012-13 season. However, further financing problems delayed completion with another year.
The Ghelamco Arena officially opened on 17 July 2013 with a friendly match between Ghent and Stuttgart (2-0).
The arena counts with a total of 1,200 business seats and 20 sky boxes. Its design allows for a relatively easy expansion to 30,000 or 40,000 seats.
How to get to the Ghelamco Arena
The Ghelamco Arena is located in the south of Ghent at about 5 kilometres from Ghent's historic city centre and 3.5 kilometres from Ghent's main railway station Gent-Sint-Pieters.
The stadium is situated where the E17 and E40 motorways intersect. If coming from the E40, first make your way to the E17. Leave the E17 at exit 9 UZ Gent.
If using public transport to get to the Ghelamco Arena on a matchday, you can get a shuttle bus from Woodrow Wilsonplein on the southern edge of the historic centre from 2.5 hours before kick-off.
If coming from Gent-Sint-Pieters railway station, you can take tram 4 in the direction of Gent-Zwijnaardebrug. Get off after about 10 minutes at stop Gestichtstraat, walk ahead until reaching the canal, and take the footpath left along the canal until reaching the Ghelamco Arena. The walk will take about 15 minutes.
Address: Ottergemsesteenweg Zuid 808, 9000 Ghent
Eat, drink, and sleep near the Ghelamco Arena
The Ghelamco Arena is located on an office park which boasts a mix of offices and light industry, and, apart from a single small cafe/restaurant, has little to offer in terms of eating and drinking, which is better done in Ghent's very pleasant city centre.
There are, however, two hotels located on the same office park a short walk away from the arena. Both are typical roadside major brand hotels with reliable standards, a Holiday Inn Express and a Campanile Hotel, but are ideal if you travel in by car. Click here for an overview of hotels near the Ghelamco Arena.
If you travel in by public transport and plan to explore Ghent's city centre as well, you will likely prefer to stay in the centre, which boasts many hotels in different price ranges.
Ghent Tickets
Tickets for KAA Gent matches can be bought online (e-tickets), or at the ticket office at the Ghelamco Arena, either in advance or on the day of the match.
Ghent sell out occasionally so booking in advance is advised.
Ticket prices range from €20.00 for a seat behind the goal to €40.00 for a central seat at the main stand. Tickets for the sides are increased with €10.00 for the matches versus Club Brugge and Anderlecht, though tickets for the end remain €20.00.
You can find a seating map here. Email tickets@kaagent.be for more information.
Photos of the Ghelamco Arena
Useful Internet links
Kaagent.be – Official website of KAA Gent.
Visitgent.be – Ghent tourist information.
Delijn.be – Ghent public transport information.
Belgianrail.be – Check train times and fares.