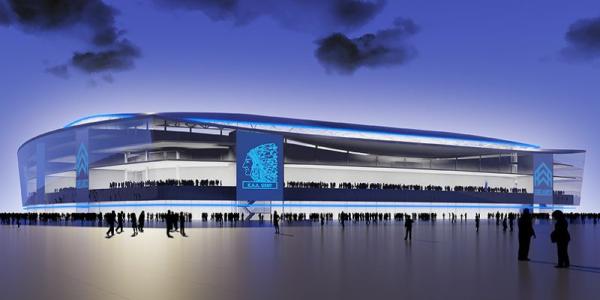 Key facts
Club: KAA Gent | Capacity: 20,000 seats | Scheduled opening: 2013 | Status: under construction
Description
The Arteveldestadion is the currently under construction new home of KAA Gent.
First plans for the construction of a new stadium for Gent were presented as early as 2003 with the expectation of finishing the project before the start of the 2006/07 season. However, a series of problems including funding difficulties and environmental concerns seriously delayed the project.
Construction eventually started in 2011 and the stadium was expected to be completed before the start of the 2012/13 season. In December 2011 the city council however announced that this deadline would not be met and the stadium will instead be finished before the 2013/14 season.
The Arteveldestadion is planned to have a capacity of 20,000 seats and will include a hotel, offices, and retail facilities. The design takes into account a potential future capacity increase to 30,000 or 40,000 seats.
The stadium is being built at an office park in the south of the city of Ghent, about 4 kilometres from its city centre. It lies almost adjacent to the E17 motorway and is enclosed on its south by a canal.