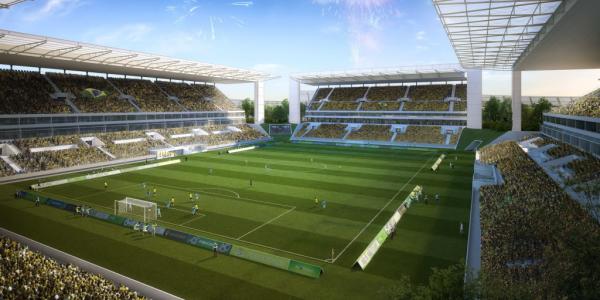 Key facts
Club: Mixto EC | Capacity: 28,000 seats | Scheduled opening: Dec. 2012 | Status: under construction
Description
The Arena Pantenal is one of the 2014 World Cup playing venues that is currently being built. It is located in the Brazilian city of Cuiabá.
The Arena Pantanal will have a capacity of 43,000 seats for the World Cup, but about 15,000 seats will be removed after the tournament, which will result in a final capacity of 28,000 seats. This will be achieved by dismantling the upper parts of the bleachers of the north and south stands (the short ends).
The project has focused strongly on sustainability and one of the stadium's noticeable features are the plants and trees that will fill the four corner areas.
The stadium will be part of a complex that includes a park, a small lake, restaurants, playgrounds, and other leisure facilities.
The stadium has been designed by architecture firm GCP Arquitetos and comes at a cost of R$519 million. Just over half of this will be financed by the federal government.
The Arena Pantanal is built on the site of the old Estádio José Fragelli (Verdão), which got demolished in 2010. It is located in central Cuiabá about 2 kilometres west of Cuiabá's city centre.
Construction of the Arena Pantanal started in late 2010 and has progressed with relatively few delays. By April 2012 about 40% of the arena had been finished and the arena is expected to be completed in December 2012.
During the 2014 World Cup the Arena Pantanal is scheduled to host a total of four group matches. It is likely that upon completion one or more local clubs will move into the stadium, most likely at least the most popular club of the city Mixto EC.