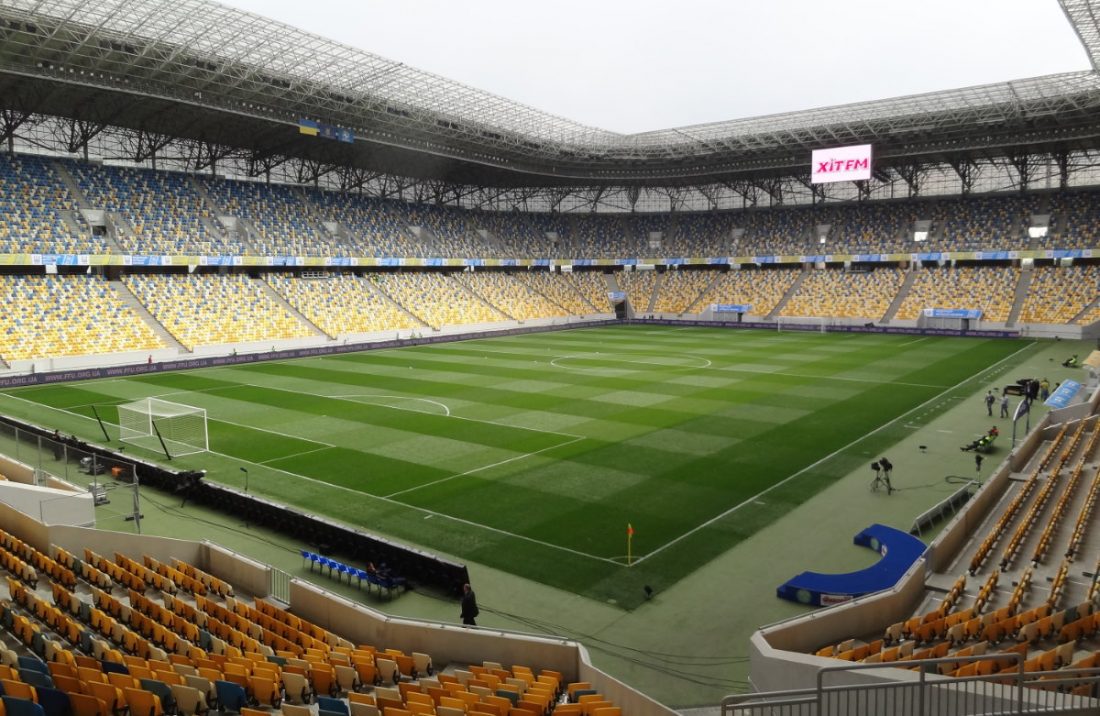 Key facts
Club: none | Opening: 2011 | Capacity: 34,915 seats
History and description
The Arena Lviv was built to serve as a playing venue for the Euro 2012 Championships. Construction started in 2008 and was completed late 2011 at a total cost of UAH 2.29 billion.
The Arena Lviv officially opened on 29 October 2011 with a theater show. The first match was played about two weeks later, which was a friendly between the Ukrainian and Austrian national teams (2-1).
During the Euro 2012 tournament three group matches were played at the stadium.
The stadium was for a few years the home of Karpaty Lviv, but the club moved back to their old Stadion Ukrayina in 2013. FC Lviv have also at times used the stadium, but nowadays also play mostly at Stadion Ukrayina.
The Arena Lviv was also used by Shakhtar Donetsk for a few years when they were forced to move out of the Donbass Arena due to the armed conflict in eastern Ukraine.
How to get to the Arena Lviv
The Arena Lviv lies in the far south of the city of Lviv, just outside the city limits at about 8 kilometres of Lviv's city centre and about 10 kilometres from the central rail station (which lies south-west of the centre).
The stadium lies near the crossing of the M10 and M06, and can thus be easily reached by car. The M06 connects with Lviv city centre in almost a straight line.
If using public transport, take trolleybus 5 from the city centre. Take the bus from Shota Rustaveli Street in the southern part of the city centre. The bus will go to the central bus terminal, which is almost next-door to the Arena Lviv.
Trolleybus 3 connects the stadium directly with the airport.
Photos of Arena Lviv
Useful Internet links
Ct.lviv.ua – Tourism information for the city of Lviv.
Photo credits: V&A Dudush