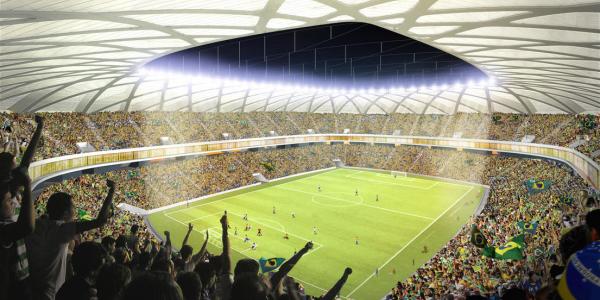 Key facts
Clubs: various | Capacity: 44,000 seats | Scheduled inauguration: June 2013 | Status: under construction
Description
The Arena da Amazônia is one of the 2014 World Cup playing venues currently under construction. Upon completion it will become the home a various teams playing in the city of Manaus.
The Arena da Amazônia is being built in the place of the old Vivaldão stadium, which used to be the main stadium of the city. Vivaldão got demolished in 2010 and in early 2011 construction started of the Arena da Amazônia.
In April 2012 the stadium had been 40% completed. All of the foundation works had been finished and builders were in the process of erecting the first stands. The Arena da Amazônia is set to be completed in June 2013, which is slightly later than initially scheduled.
The Arena da Amazônia is being built toward the north of the city of Manaus, on the main road that leads from the city centre to the international airport. The distance from Manaus city centre and the Amazon river is about 6 kilometres, while the airport lies 7 kilometres further north.
The stadium will be part of a complex that also includes Manaus' sambadrome, athletics facilities, other sports venues, and a swimming centre.
The Arena da Amazônia will have a capacity of 44,000 seats. It is designed by German architecture firm gmp Architekten, also responsible for Frankfurt's Commerzbank Arena and Warsaw's Stadion Narodowy. The shape of the stadium is meant to resemble a traditional indigenous basket.
The design also takes into account the area's challenging climatic conditions. The roof's steel structure is designed to serve as a large gutter that drains the tropical rain water, the roof's coating reflects heat radiation and thus has a cooling effect, openings in the roof and facade stimulate ventilation, and there are ample areas of shade where spectators can shelter from the sun.
The stadium comes at a cost of R$532 million, which is for three-quarters financed by the federal government and for a quarter by the Amazonas state government.
During the 2014 World Cup the stadium will host four group matches. Upon completion it will become the permanent home of local clubs Nacional Futebol Clube, Rio Negro, São Raimundo, América, and Sul América.