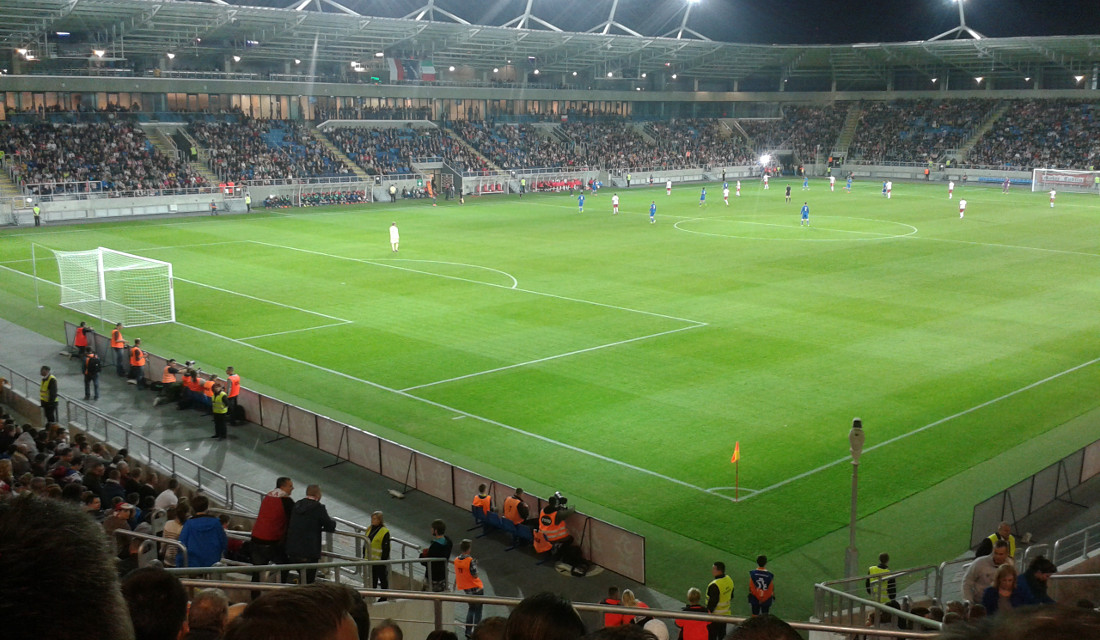 Key facts
Club: Motor Lublin | Opening: 2014 | Capacity: 15,400 seats
History and Description
The Arena Lublin is the recently opened new municipal stadium of the city of Lublin and the new home of Motor Lublin. The new stadium replaced the old municipal stadium, which opened in 1961, can hold just over 3,000 spectators, and is located just north of the new arena.
First plans for a new stadium were made in the middle 2000s, but it took many more years for them to become concrete. Planning permission for a site that previously housed a sugar factory was obtained in 2012, and building works started in the spring of 2013.
The Arena Lublin officially opened on 21 October 2014. The first match, a match between the Polish and Italian U-21s, was played three weeks later. The stadium came at a cost of PLN155 mln.
In 2016, Gornik Leczna moved into the Arena Lublin. The club, from a small town 25 kilometres east of Lublin, hoped to increase revenue through the move, but it led to strong resistance among their fans and declining attendances.
How to get to the Arena Lublin
The Arena Lublin is located in central Lublin just south of the city centre and a short walk west from the main railway station. The walk from the station takes about 5 minutes and that from the historic centre 20 minutes.
Direct trains run to Lublin from Warsaw about every two hours. The journey takes a little under two-and-a-half hours.
Address: ul. Stadionowa 1, 20-401 Lublin
Motor Lublin Tickets
Tickets for Motor Lublin games can be bought online, at the ticket office at the Arena Lublin, at the Lombard agency at the main railway station, or at the Lombard agency at Lwowskiej street just north of the historic centre.
Regular tickets cost PLN 13.00, while VIP tickets cost PLN 45.00.
Photos of the Arena Lublin
Relevant Internet links
Motorlublin.eu – Official website of Motor Lublin.
Lublin.eu – Lublin city and tourism information.