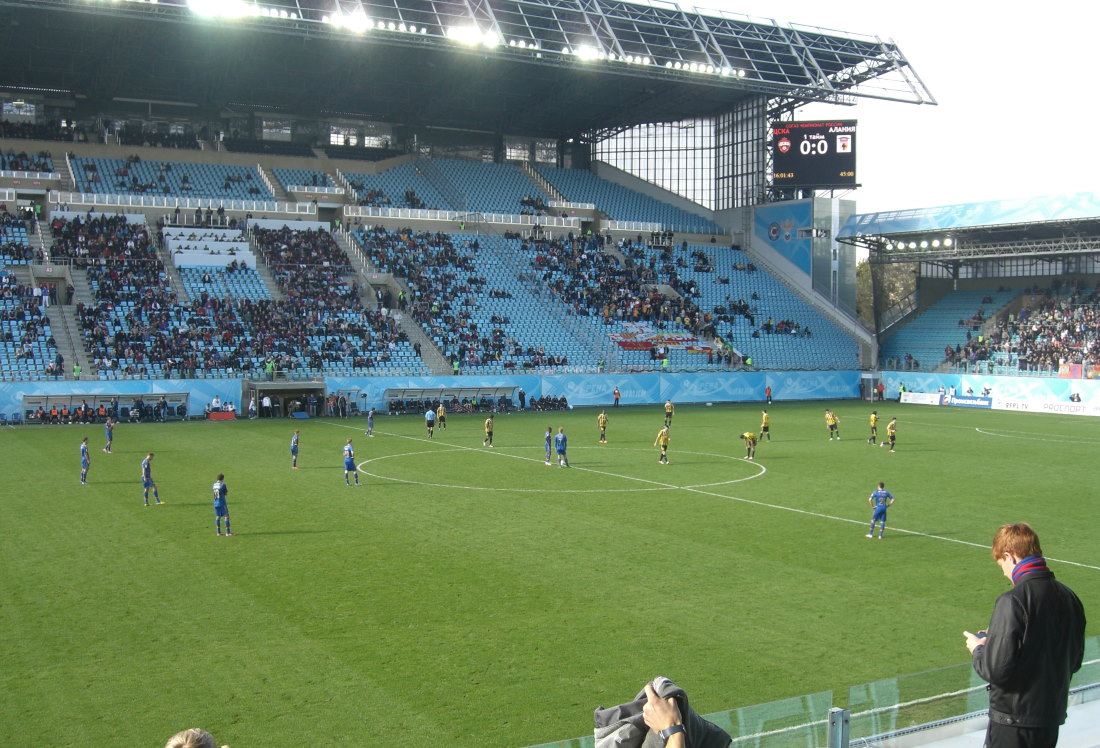 Key facts
Clubs: FC Khimki | Opening: 2008 | Capacity: 18,636 seats
History and description
The Arena Khimki was built to provide FC Khimki with a new home in place of their old stadium that had stood at the same site.
Construction works started in 2005, and plans got more ambitious while the works developed. The Arena Khimki officially opened on 20 September 2008 with a match between FC Khimki and FC Saturn.
Soon after, Dynamo Moscow started renting the arena as it offered better facilities than their dilapidated home ground.
In 2010, CSKA Moscow also decided to play most of their home matches at the Arena Khimki while their Arena CSKA was under construction.
FC Khimki's fortunes however in the meantime dwindled, and they played many of their home games at a smaller local ground.
In 2009, the Arena Khimki hosted the Russia Cup final: CSKA Moscow beat Rubin Kazan 1-0.
In 2016, CSKA moved back out again when the Arena CSKA was completed. A few years later, Dynamo also moved back to their original home when the newly built VTB Arena opened. These days FC Khimki occasionally uses the arena for higher profile matches.
How to get to the Arena Khimki
The Arena Khimki is located in the city of Khimki, which is located on the north-western edge of Moscow on the MKAD Ring Road at just under 20 kilometres from central Moscow.
The stadium can be reached by taking metro line 2 to station Rechnoy Vokzal (Речной вокзал), which is the last on the line. Line 2 can be boarded at several stops in central Moscow. From Rechnoy Station take bus 345 to stop Arena Khimki.
Alternatively, one can catch a train from Москва Ленинградская station, which lies right next to Комсомольская metro station (north-east of central Moscow). Take a train to  Химки (Khimki), from where it is a 10-minute walk to the stadium.
Address: Московская область, Химки, улица Кирова 24
Eat, drink, and sleep near the Arena Khimki
The Arena Khimki is located in a quiet and leafy residential area with little around in terms of eating and drinking, which is better done in central Moscow. If you are in need of a quick bite, it is best to try your luck around Khimki rail station.
There are neither any hotels near the Arena Khimki. If you do wish to stay reasonable close, then Okhotnik Hotel near metro station Водный Cтадион and Iris Congress Hotel are decent option. Soyuz Hotel is located closest to the arena, but inconveniently separated from it by the river and the ring road.
Click here for an overview of hotels in the Khimki area, and here for some of the many options in other parts of Moscow.
FC Khimki Tickets
Tickets for FC Khimki games can be bought online through Kassir.ru.
Photos of the Arena Khimki
Useful Internet links
Pfc-cska.com – Official website of CSKA Moscow.
Dynamo.ru – Official website of Dynamo Moscow.
Arena-khimki.ru – Official website of the Arena Khimki.
Moscow.ru – Moscow international portal.
Mosmetro.ru – Official site of the Moscow metro.