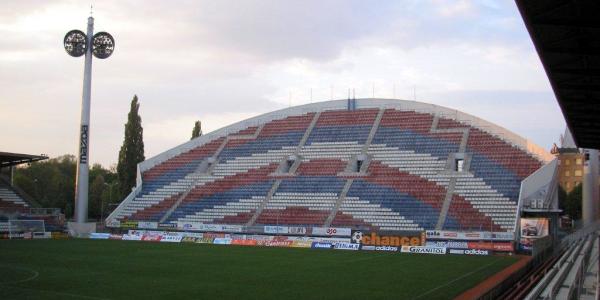 Key facts
Club: SK Sigma Olomouc | Opening: 1940 | Capacity: 12,541 seats
History and description
Construction of Andrův Stadion started in 1938 at the initiative of local businessman Josef Ander, who the stadium got subsequently named after.
Andrův Stadion opened two years later in 1940. It consisted of one concrete main stand and open terraces, and could hold about 20,000 spectators.
The stadium got heavily damaged at the end of the Second World War when the German blew up an ammunition depot they had installed on the site. A new wooden stand was built instead, but in subsequent years the stadium slowly fell into disrepair and got hardly used by the 1960s.
Andrův Stadion got patched up again in 1969 when Sigma Olomouc moved back in, though it remained a  very basic structure and the temporary wooden stand remained standing.
In 1979, it got finally replaced by a new concrete main stand. Further new stands were added when Sigma Olomouc promoted to the top league in the mid 1980s.
In the late 1990s, a major redevelopment program was presented with the objective to transform Andrův Stadion into a fully-covered modern arena. Works started with a renovation of the main stand, followed in 2000 by the construction of the characteristic oval North Stand.
Works stalled after the opening of the North Stand, but from 2006 some smaller renovations were performed. More substantial developments followed in 2009 with the opening of the new South Stand with VIP facilities.
Getting there
Andrův Stadion is located just north of Olomouc's historic city centre. The walk from the central market square takes only a few minutes.
Olomouc's main railway station is a little further away, east of the city centre, and it takes about 25 minutes to walk from there to the stadium.
Regular trains depart from Prague to Olomouc. The journey takes just over two hours.
Address: Legionářská 1165/12, 771 00 Olomouc
Tickets
Tickets for Sigma Olomouc games can be bought at the club shop at the stadium, or on the day of the match on the gate from two hours before the start of the match.
Tickets cost CZK 120.00 for a covered seat and CZK 90.00 for an uncovered one.
Photos
Relevant Internet links

Sigmafotbal.cz – Official website of SK Sigma Olomouc.
Tourism.olomouc.eu – Official tourism website for Olomouc.