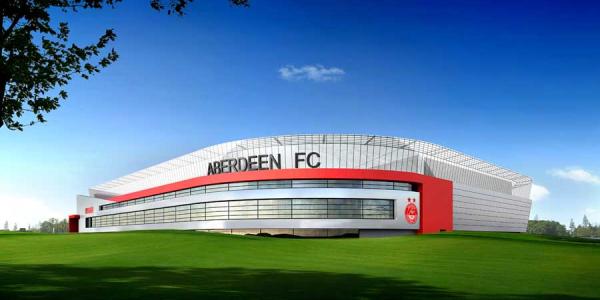 Key facts
Club: Aberdeen FC | Capacity: 21,000 seats | Scheduled opening: N/A | Status: on hold
Description
The Aberdeen Arena is a planned new stadium for Aberdeen FC.
Aberdeen have been looking to move to a new stadium since the early 1990s, however initially nothing concrete materialised. A redevelopment of their current home, Pittodrie, was also considered, but limited space and safety requirements would reduce capacity to a mere 12,000, not enough for the ambitions of the club.
Plans for a move became more concrete in 2008, and in 2009 a site in the south of the city, near Loirston Loch, was selected. First visuals were presented in 2010, but despite subsequently obtaining planning approval, the project stalled on a lack of funding and other planning complications.
It took until 2016 for plans to start moving again, this time focusing on a new site west outside the city limits at Kingsford.
In 2018, the club started the first part of the project which constituted of a training ground at the same site. The status of the main stadium remained in limbo and further consultation were scheduled to be started in the summer of 2020. The outbreak of the Covid-19 pandemic in 2020 has put the project on hold for the moment.
Images of the Aberdeen Arena