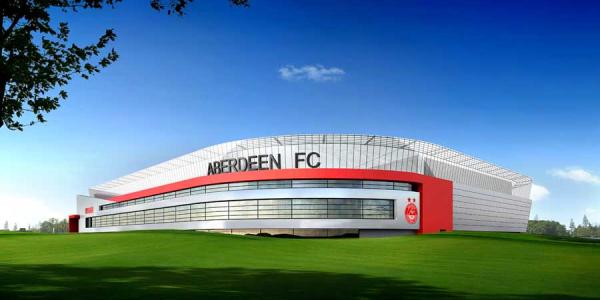 Key facts
Club: Aberdeen FC | Capacity: 21,000 seats | Scheduled opening: 2014 | Status: in planning
Description
The Aberdeen Arena is the planned new stadium of Aberdeen FC.
Aberdeen had been investigating a move to a new stadium since the early 1990s, however nothing concrete ever materialised. A redevelopment of Pittodrie was also considered, but it turned out that due to limited space and safety requirements the capacity had to be reduced to a mere 12,000, too low for the ambitions of the club.
Plans for a move became more concrete in 2008 and in 2009 a site in the south of the city, near Loirston Loch, was selected. First visuals were presented in 2010, and after a public consultation a planning application was submitted.
The project is estimated to cost £30 million. The stadium will have a capacity of 21,000 seats and have the shape of a continuous bowl. The main stand will be designed for hospitality facilities, including 26 high-level VIP boxes.
In contrast to Pittodrie the pitch size will be compliant with FIFA requirements, which makes the stadium eligible for international sporting events. The project furthermore includes several other sports facilities such as outdoor floodlit pitches and an indoor sports hall.
In February 2011 the Aberdeen city council approved the planning application, though funding still had to be sought.
Early 2012 the club and city council's development committee agreed on the final plans. Soon after the club released a statement that planning delays had made the club decide to postpone the start of construction with 12 months. The club now hopes to occupy their new stadium at the start of the 2014/15 season.