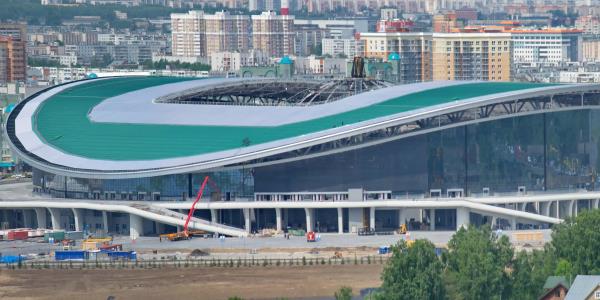 Some of you may already have noticed a gradual decline in the frequency of new posts. As is so often the case when a blog is merely a hobby, other commitments roar their head and and writing new articles moves down the priority list.
That's why we have decided to turn the upcoming month (or two) into an official summer break and get back into the game when the new season kicks off in early August. The time we spend on stadiumguide.com in the meantime will then be fully dedicated to updating the ticket and travel details of the stadiums in our guide.
That's not to say that it will be a summer without stadium news. We have said goodbye to Bilbao's San Mamés a few weeks ago and are eagerly awaiting what the new San Mamés will look like.
Nice's Allianz Riviera and Ghent's Arteveldestadion are other stadiums that will be completed around the start or early in the new season, as is Haifa's Sammy Ofer Stadium.
Brazil has in the end managed to complete all stadiums in time for the Confederations Cup, but the rest of the World Cup stadiums need a good few more months to get completed. In fact, it is a non-World Cup stadium – the Palmeiras Arena – that is the next large stadium to open in Brazil.
Once Nice's Allianz Riviera gets completed, eyes will move on the projects in Lyon and Bordeaux, where construction works have finally started. Marseille's Stade Vélodrome already has one new stand and a roof, while works also continue of Saint-Etienne's Stade Geoffroy-Guichard.
The 2018 FIFA World Cup can also record its first completed arena with the opening of a spectacular new stadium in Kazan. Stockholm's new Tele2 Arena is neither too shabby, and fans of Poland's Górnik will be getting a taste of what their new stadium will look like when the first new stands open.
We also promise you to give you the low-down on last season's attendances in La Liga, Serie A, and some of Europe's smaller leagues.
Overall, there is a lot to get excited about and we'll be happy to get you the latest updates again once the new season kicks off.
(Photo via Skyscrapercity)