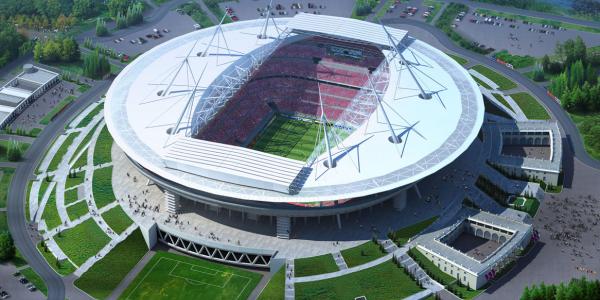 Key facts
Club: FC Zenit | Capacity: 68,000 seats | Scheduled opening: 2016 | Status: under construction
Description
The Zenit Arena, also referred to as Piter Arena, is the currently under construction new stadium of FC Zenit. It is getting built at the site of the former Kirov Stadium.
Planning for the new stadium began late 2005, and first construction works started by the end of 2008. The stadium was initially planned to be completed in 2009, but works have been hampered by a series of delays including a redesign to comply with FIFA requirements and fraud investigations.
The Zenit Arena was initially to be funded by Russian gas firm Gazprom, however after they pulled out it was taken over by the St. Petersburg city government. The current schedule indicates that the stadium will open in late 2016 the earliest, however unconfirmed rumours suggest it may take until 2017 for the stadium to be ready. The overall costs are estimated to pass $1 billion, which would make it one of the most expensive stadiums ever built.
The new arena will have a capacity of 68,000 seats, which has been increased from an initial 62,000. The design is by Japanese architecture firm Kisho Kurokawa and resembles the form of a spaceship with the roof held up by four masts. It has some similarities with that of the Japanese Toyota Stadium, which was designed by the same firm.
The site of the new stadium is located on Krestovsky Island in the Neva river bay, about 7 kilometres north-west of Saint-Petersburg's city centre.
The Zenit Arena is going to be one of the playing venues of the 2018 World Cup in Russia, during which it will host four first round group matches, a quarter final, a semi final, and the match for third place.