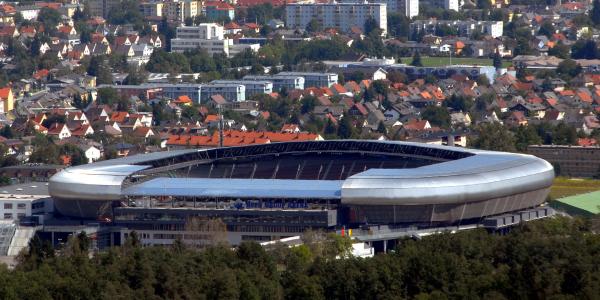 Key facts
Club: SK Austria Klagenfurt | Opening: 2007 | Capacity: 30,000 seats
History and description
The Wörthersee Stadion got built to serve as a venue at the 2008 European Championships. Construction of the stadium, built on the site of the demolished old stadium with the same name, began in early 2006. Costs of the project were €72.12 million.
The stadium officially opened on the 7th of September 2007 with a friendly international between the Austrian and Japanese national teams (0-0). During Euro 2008 the Wörthersee Stadion hosted three group matches.
After the opening the naming rights of the stadium were sold to the Hypo Alpe Aldria banking group, resulting in the name Hypo Group Arena. However, after the bank stumbled onto financial difficulties, the deal was terminated and the name changed back to Wörthersee Stadion.
The stadium is owned by the city of Klagenfurt and is the home of Austria Klagenfurt. As the team currently plays in the lower leagues, capacity of the stadium is reduced to 18,000 for their home games.
Getting there
The Wörthersee Stadion is located in the south-west of the city of Klagenfurt, about 3.5 kilometres from its historic old town and a similar distance from the main railway station.
If coming from the west (A2), follow for Klagenfurt West / Zentrum / Wörthersee and then take the exit Klagenfurt-Wörthersee toward Wörthersee. Merge onto the southern ring road (Südring) and follow for about 2.5 kilometres until reaching the stadium.
If coming from the east (A2), first follow the A2 toward the west of the city, and then follow as above.
By public transport the stadium can be reached with bus 85. Either take the bus from the Heiligengeistplatz in the old town or from the railway station. Take the bus in the direction of Ganghofergasse and get off at stop Zaungasse or Stadion
Address: Süduferstraße, 9020 Klagenfurt am Wörthersee
Tickets
Tickets for Austria Klagenfurt matches can be bought at the club office at the stadium or at the gates of the stadium on the day of the match.
Matchday tickets go for a flat fee of  €10.00. For more information call +43 (0) 463 210 88 80.
Stadium tours
The Wörthersee Stadion organises guided stadium tours that include the changing rooms, dugouts, press areas, and VIP lounges. The tours last about 60 minutes.
From June to September tours run on Tuesdays at 10:00 am and Fridays at 5:00 pm. From October to May tours only run on Fridays at 5:00 pm. There are no tours on match or event days.
Bookings are required and can be made by phone +43 463 537 5310 or email sportpark@klagenfurt.at (at least one day in advance). The tour costs €5.00.
Relevant Internet links

Skaustriaklagenfurt.at – Official website of SK Austria Klagenfurt.
Sportpark-klagenfurt.at – Official website of the Wörthersee Stadion.
Klagenfurt.at – Tourist information for Klagenfurt am Wörthersee.
Stw.at – Klagenfurt public transport information.