This week's attendance facts:
The regular MLS season has ended, and it has been a good one. Attendances have gone up with 5.6% to an average of 18,807 per match. This is how the MLS compares to the European leagues.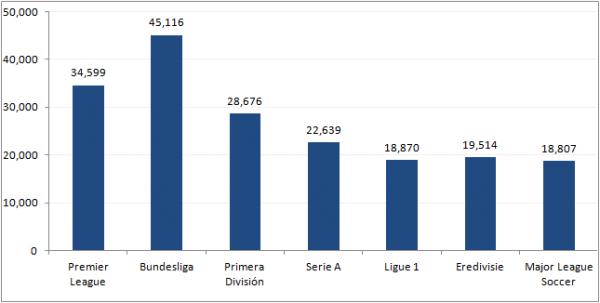 Most of the clubs saw increases in attendances, though a few went down. The Seattle Sounders came out on top with an average of 43,104 people at CenturyLink Field. We will dedicate a complete article to the attendances in the MLS in the upcoming week.
The Galician derby between Celta de Viga and Deportivo de la Coruña was played for a full Estadio de Balaídos. Normally just under 20,000 people show up at a Celta match, but the match against their rivals filled all 31,000 seats.
Atlético de Madrid's attendances are also slowly creeping up, likely due to their excellent performance in the league so far. They are averaging about 5,000 spectators more than at this stage last year, and their average of 44,000 is third-highest in the league.
On contrast, Palermo fans have absolutely no interest in their team this season. Despite a well-attended first match against Napoli, their average has since dropped to just under 15,000, which is more than 4,000 lower than their average of last season. Last night, only just over 12,000 people showed up for the match versus Milan, who are no shabby opponents.
We earlier mentioned the lack of sold out matches in Holland, but there is one province that is the exception, which is Overijssel. The three Eredivisie clubs from the area, FC Twente, Heracles Almelo, and PEC Zwolle, are the only three teams that can boast an occupancy rate of over 97%.