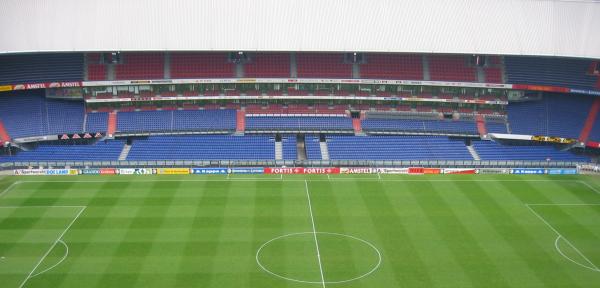 De Kuip is arguably one of the world's most iconic stadiums. It has hosted a string of European cup finals as well as the final of Euro 2000. It is a home that is cherished by virtually every Feyenoord fan.
De Kuip, however, is also an old stadium. It celebrated its 75th birthday earlier this year, and while it received a thorough refurbishment and new roof in the late 1990s, its age is showing. Facilities are lacking, many places are still uncovered, and it only boasts a limited number of hospitality options.
Feyenoord has therefore long fancied either again redeveloping De Kuip, or building a complete new stadium. Earlier plans failed though for various reasons, of which a lack of funding stands firm on top of the list. The recent crisis has also limited the willingness of the city of Rotterdam to contribute.
That said, the club recently started another round of research, and has narrowed the options down to two, which in both cases would result in De Kuip disappearing in its present form.
Most fans, of course, are not happy to see their iconic stadium disappear, and a few local entrepreneurs/fans of the club have therefore presented a counter-proposal, in which they argue that De Kuip can easily be preserved and still redeveloped into a modern arena.
These proposals have received quite a bit of press coverage in Holland in recent days, and while interesting enough to discuss by themselves, they also form a great opportunity to further investigate the pros and cons of redeveloping an existing stadium versus building a new one.
While in some cases this trade-off is pretty clear, e.g. Arsenal never had the space to properly expand Highbury, this line is vaguer for other clubs, think of Liverpool, Barcelona, and Paris Saint-Germain that are currently struggling with this question.
So were are taking the current discussion of De Kuip as a base, and build our thoughts around it. What is better for Feyenoord: build a new stadium, redevelop De Kuip, or maybe do nothing at all?
We first need to know a little bit more about De Kuip:
De Kuip has an official capacity of just over 51,000 seats, but no more than 48,000 tickets are sold for any Feyenoord home match.
When De Kuip got last redeveloped in the 1990s, a new building got built outside the stadium that houses most facilities (hospitality, museum, restaurant, some conference facilities, etc.). This building is called the Maasgebouw (photo).
De Kuip holds 1,200 business seats, mostly located at the upper tier of the main stand (see photo above). There are a further 40 VIP boxes between the tiers of the same stand. These are all linked up with the Maasgebouw.
De Kuip is not owned by Feyenoord, but by a limited liability company (Stadion Feyenoord NV), which is half owned by the amateur club Sportclub Feyenoord and half by a mix of other private investors, often fans of the club.
De Kuip used to be one of Holland's prime concert venues, but has not hosted a concert in years due to competition of the Amsterdam ArenA and GelreDome.
Then there is this background information on Feyenoord:
Feyenoord has a rich history, but financial difficulties have plagued the club for the last decade, which has significantly impacted performance.
Feyenoord has loyal and national support, and even in poor seasons averages attendances of close to 40,000.
On the other hand, De Kuip also does not consistently sell out. Last very successful season saw an average of 44,471 people attend Feyenoord's matches, which on average filled De Kuip for 93%. Six matches sold out.
Rotterdam has the largest port of Europe, and there is potentially much support of local businessmen.
Feyenoord's plans with regards to the future of De Kuip seem to be these:
Both options that the club is currently studying involve building a complete new stadium, either in place of the current Kuip, or at a site very close to the present stadium.
Capacity would be in the range of 63,000 to 65,000 seats. Earlier plans that called for a capacity of 80,000 seats have long been abandoned.
Costs are projected to be €300 million, though further details have not been provided yet.
The board of Stadion Feyenoord NV is in favour of these plans, though their shareholders, many of them Feyenoord fans, may have a different opinion. The Rotterdam city council will be hesitant to fund part of the stadium, or even provide a loan on favourable terms.
So what is that counter-proposal those entrepreneurs have presented?
They want to add a third tier to the stadium, and hereby raise capacity to 65,000 seats.
They want to do this by lifting the roof, adding the extra tier, and then placing the existing roof on top again. A new exterior would provide sufficient support for the structure.
VIP Boxes can be attached to the extra tier, hereby quadrupling the existing number.
They claim costs will be significantly lower, but do not give an estimate.
Those being able to read Dutch, can visit reddekuip.nl for more information. One can browse through some images of the plans here.
Feyenoord fans seem to have responded mostly positively to the ideas, while the board of Stadion Feyenoord has reacted negatively.
So what is the trade-off between both plans? The objective should arguably be to provide Feyenoord with a better future, i.e. more income to successfully compete, but against the least possible costs. The idea of preserving an iconic stadium is of course laudable, but is it realistic?
What do we know about building new stadiums?
While fans are obviously upset about losing a cherished home, few turn away from the club and most quickly accept the new situation.
The better facilities and hype of a new stadium typically lead to quite a significant bounce in attendances. It is generally not unreasonable to expect a jump of 20% in attendances.
While this is definitely a plus, new stadiums really bring in the extra money because the revenue per seat goes up. This can either be achieved by raising ticket prices across the board, or through extra premium seating (hospitality). In reality, this tends to be a mix of the two. The Emirates Stadium is often given as an example here.
When we look at the design of newly built stadiums with an approximate capacity of 60,000, we see that various have a small middle tier for these premium seats (e.g. Emirates Stadium, Estádio da Luz, Grand Stade Lille Métropole), though many new German stadiums have most premium seating at the lower tier.
Practically all modern new stadiums have VIP boxes all around the stadium, either in between the upper and middle tier (in the case of three tiers), or between the upper and lower tier (in the case of two tiers).
The number of premium seats in these stadium can easily amount to 5,000 to 7,000, to which an additional 100 to 150 boxes are added.
While Feyenoord will undoubtedly add its own features to its design, there is every reason to expect the stadium to be much similar to the above. The planned capacity of 65,000 seats seems reasonable.
The drawbacks of a new stadium are, of course, the loss of history, character, and atmosphere, but most of all a very heavy price tag. We also know that few new stadiums pay themselves back, and most only work because of contributions of local or national governments.
So how do the redevelopment plans of the entrepreneurs/fans compare?
While adding extra tiers to a stadium used to be quite common in the past, there really is not much recent precedent of plans of this scale. Other recent redevelopments tend to involve rebuilding stands or extending the stands, not adding a complete overhanging tier to a stadium.
The extra third tier will primarily consist of regular seats. Will this attract as much new people to the stadium as with a new stadium? It is doubtful. These seats will have inferior views, and if they are not accompanied by better basic facilities as proper toilets all around the stadium, there is no guarantee that demand will go up much.
In fact, if they do not get filled, this might actually suppress the prices Feyenoord can ask for the existing seats. It might also mean more empty seats at the lower uncovered sections, left by people who moved to the upper ones.
The number of boxes will rise to competitive levels, though the number of premium seats still stays behind. Feyenoord can of course create these in existing sections, but it might need to expand the Maasgebouw as well to cater for these.
Sightlines, positioning of VIP facilities etc. will not be as good as in a new stadium, but also not dreadful, and should not form obstacles that cannot be overcome.
The redeveloped stadium is unlikely to attract many outside events such as concerts, though it is doubtful whether a new stadium would do so due to the intensive competition of venues in the Dutch market.
The big unknown of these plans are of course the costs, but one really wonders whether there is much benefit in an extra tier if Feyenoord cannot increase revenue per seat. Surely, there are the extra VIP boxes, but will the extra income be enough to justify the investment?
While one can see the case the entrepreneurs are making against a new stadium, their own case is also far from convincing unless they can provide some hard numbers.
On the other hand, who is going to pay for a new stadium? Not the city, not the club, so most money will have to come from private investors, who are scarce at the moment (ask Liverpool and Spurs). Taking on big loans is also not a strategy that is recommended for a club that just came from the brink of bankruptcy.
The club and stadium board have given no indication on their success in attracting funding, but the announcement the club is expected to make in the next months may shed more light on this. Nobody, of course, also knows what the economy will look like in a few years time.
Is there an alternative, apart from doing absolutely nothing? While the integrated steel construction of De Kuip makes rebuilding of parts of the stadium a rather difficult job, there are certainly some options left to optimise income from the stadium.
Liverpool, for example, is already relocating season ticket holders to different parts of the stadium as to free up space for further premium seats that can be sold to Scandinavian football tourists and the likes. Not the most charming way to treat your long-time fans, but perhaps a necessity.
That Feyenoord's matchday revenue is far behind that of rival Ajax (app. €9 million vs €27 million) is not that big a surprise, after all, Ajax play at the relatively new Amsterdam ArenA, but they are also lagging behind many Spanish and Italian clubs that have old stadiums and often even lower attendances. There must be more possible here.
In the end though, one feels that at some point the road comes to an end for the icon that is De Kuip, but then, many icons have gone in the last few decades, but new ones have taken their place, and there is no doubt that in 75 years time a new generation of fans will be protesting their replacement.