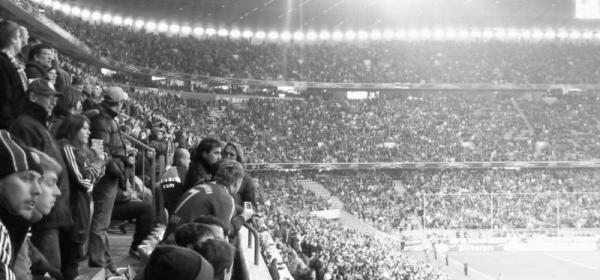 This is part of three of our series that analyses the attendances of Europe's six major leagues over the 2011/12 season. After our general comparison and the Premier League, it is now the turn of the Bundesliga. Just as the Premier League though, the Bundesliga is not offering many obvious surprises if it comes to attendances. Attendances are high and therefore very much reflect the stadium capacities, so the devil is in the detail.
Let's first recap what we found in our comparison of the six leagues. We found, not surprisingly, that the Bundesliga is still by far the best-attended league in Europe. It averaged 45,116 spectators per match and sold 92.65% of all tickets (just beating the Premier League).
It furthermore (almost) sold out a spectacular 53% of the matches and it was the only league in Europe where every club sold out at least one match. Having said that, there were only two clubs that sold out every match of the season, less than in the Premier League.
Finally, attendances in the Bundesliga proved to be very stable, though not as stable as the Premier League. The Bundesliga had a particular slump in attendances mid-season, but, as all leagues, rallied towards the end.
Before we give you a break-down by club, we start with a simple comparison of this season's league average with last season's average.
A comparison of the average of all Bundesliga clubs shows an increase of 5.8% in attendances, which is great, however not completely fair as the two new teams, Hertha and Augsburg, average (somewhat) higher attendances than the ones that left, Eintracht Frankfurt and St Pauli. If we adjust for this and only look at the 16 teams that played in the Bundesliga in both seasons, we see an increase of 4.6%. So still very impressive.
If we break that down by club, it looks like this: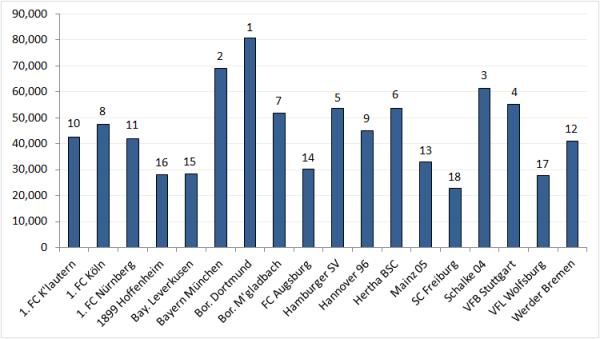 The number above each column is the ranking of each club compared to the others.
As mentioned before, there is few that surprises here. We all know that Dortmund has the highest attendances of Germany (of Europe actually), and it is also no surprise that Freiburg ranks bottom as the MAGE-SOLAR-Stadion is by far the smallest of the 18 stadiums.
If we had to pick something to make a headline, it would probably be Hertha's still very decent attendances despite a dreadful season. But then, so were the attendances of the other two clubs that relegated, Kaiserslautern and Köln.
There is one other thing that actually catches the eye, though you need to have a few more numbers (which we do). We have mentioned in earlier articles that it may actually be better to look at median attendances instead of averages to get a better idea of the "typical attendance". We usually see that the median is lower than the average, because a few very high attendances tend to pull up the average. We see, however, the opposite in the Bundesliga. This is because most clubs generally operate close to full capacity, but a few low attendances pull the average down. The exception is Hertha, which has of course a lot of free capacity, and hence a few high attendances pull their average up.
Now let's have a look at how club attendances compare with last season. We only include the clubs that played Bundesliga in both seasons: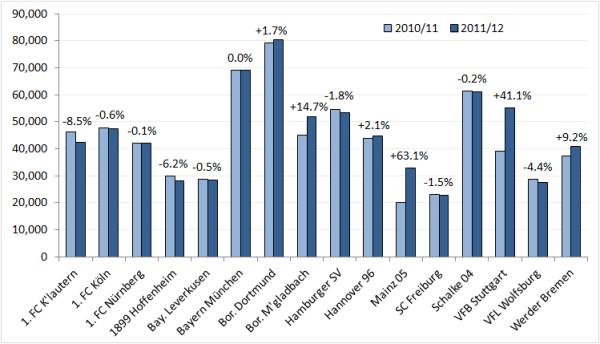 And here is where things suddenly start to get interesting. Where we might have excepted a very solid growth across the board, we actually see a lot of minuses in the chart. More specifically, 9 out of 16 clubs saw attendances decline, Bayern's stayed the same (always sold out), and only 6 clubs saw attendances increase.
But those 6 clubs do attract the attention, because 3 of them (Gladbach, Mainz, and Stuttgart) recorded double-digit growth, and one more (Bremen) almost double-digit growth. What happened here?
Well, Mainz moved into a new stadium, replacing the smaller Bruchwegstadion for the larger Coface Arena. Stuttgart's Mercedes-Benz Arena underwent a major redevelopment, which meant a reduced capacity last season and a higher capacity this season. Bremen and their Weserstadion are a similar story as Stuttgart, but on a smaller scale.
Borussia Mönchengladbach's growth, on the other hand, is purely autonomous and mostly due to the club's massively increased performance this season.
So how much of the 4.6% Bundesliga growth is driven by those three clubs that expanded their stadiums? Well, exactly 4.6%, which means that without these three, the average attendance would have stayed exactly the same.
Which, of course, makes sense and takes nothing away from the Bundesliga's impressive growth. When you sell 93% of all tickets then the only way average attendances can further increase is by expanding stadiums, because every club selling out every match is simply unrealistic, there will always be some fluctuations up and down.
So which clubs have still some free capacity left? That is, what are the occupancy rates of the clubs? The complete columns are the capacities of each stadium and the blue part the average attendances.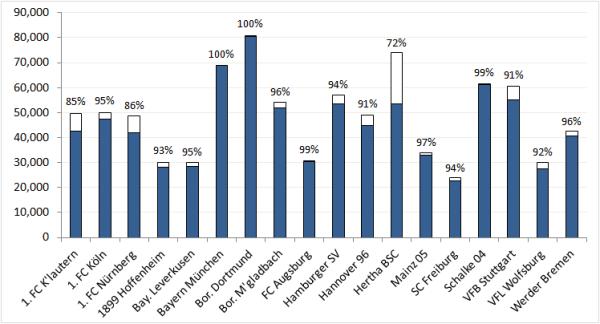 The odd one out seems Hertha BSC, but they obviously have the very large Olympiastadion to fill. The only other clubs that have an occupancy rate of less than 90% are Kaiserslautern and Nürnberg.
It is probably most interesting comparing these figures with those of the Premier League. While both leagues have a similar overall occupancy rate (93%), the Premier League has more clubs with an occupancy rate close to 100%, but also more with a rate lower than 90%. In the Bundesliga, on the other hand, most occupancy rates hover somewhere in the 90%-range.
A related figure is the number of sold out matches, more precisely the number of matches with an occupancy rate of 97% or higher.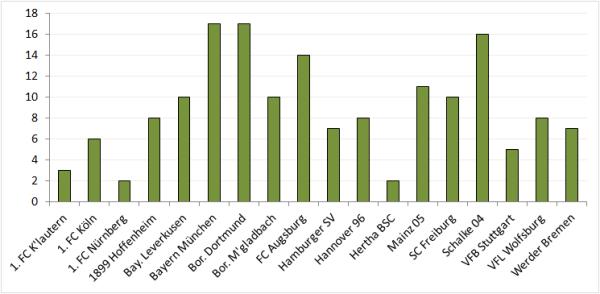 These numbers probably somewhat overstate the number of matches that were properly sold out. Capacity and attendances figures tend to be very precise in Germany, and we also know that away ends generally sell out. Which means that if an attendance is a few hundred short of the capacity, it is likely not a sold out match, whereas it would be in other countries. Dortmund, for example, did not technically sell out all their home matches, though Bayern did.
All clubs did sell out at least one home match and in these cases Bayern was always one of the visitors. In fact, they have not seen an empty seat home or away in the Bundesliga for at least two years now (when we have time we might try to find out their exact run, which could be much longer).
Our final analysis looks at how attendances developed over the season and how much they fluctuate. To keep things easy on the eye we start with the nine clubs with the attendances that fluctuated the least. The count at the bottom of the chart are the 17 home matches in chronological order.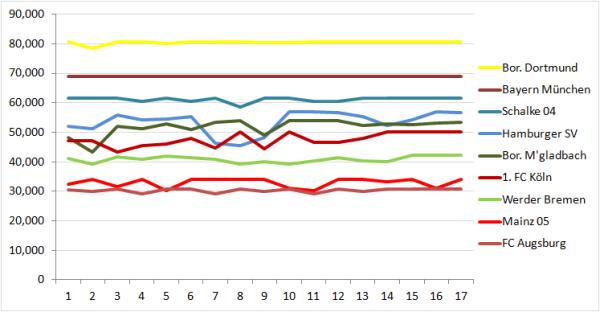 And here the chart for the clubs with the more volatile attendances: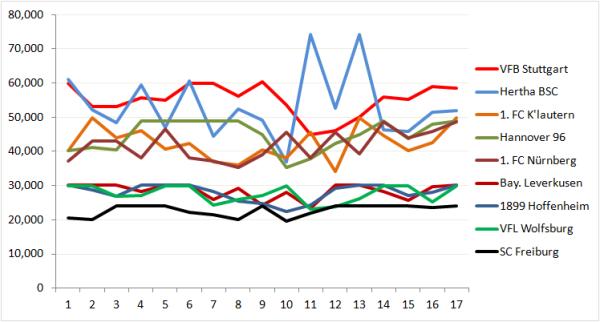 The tree teams with the most fluctuating attendances (based on the standard deviation) were, not surprisingly, Herha BSC, Kaiserslautern, and Nürnberg. After all, if you have a lot of free capacity, it is easier to fluctuate both up and down, whereas teams that normally operate close to full capacity only have downward pressure.
Bayer Leverkusen in fourth place is possibly more surprising considering the stature of the club combined with the small BayArena. Still, their attendances fluctuate considerably and the Leverkusen fans may therefore be the most appropriate nominee for most fickle fans in the Bundesliga.
When we look closer at all the fluctuations it seems that they are more fuelled by the opponent than performance. Gladbach may be the exception as attendances clearly move up after their good start of the season. The relegation strugglers typically have a mid-season slump, but then rally towards the end.
So what brings the future for the Bundesliga? Will attendances continue to grow, will they stabilise, or might they even decline?
Next season will see three clubs with high attendances disappear from the Bundesliga (Hertha, Kaiserslautern, and Köln), and being replaced with two (Düsseldorf and Frankfurt) that will likely attract attendances of in the 40,000s and one (Greuther Fürth) that is limited to the Trolli ARENA's capacity of 15,000.
Which means that the base is already lower, and therefore other attendances need to grow to make up. However, as we've just seen, opportunity for autonomous growth is very limited, which means that various clubs have to start selling out more regularly, or that Nürnberg has to do a much better job in filling up the easyCredit-Stadion.
It therefore would not be unreasonable to suggest that we are going to see some stagnation or a small decline next year. There is nothing wrong with that, of course.
Long-term growth, then, will have to come from expanding stadiums. But of the current Bundesliga clubs only Greuther Fürth has concrete plans to move to a new stadium, and it won't be finished before 2014 (and it is doubtful whether it still plays Bundesliga then).
When we look at the other Bundesliga stadiums it strikes that they are very much finished. In particular Germany's more established clubs all have reasonably new stadiums without running tracks, with closed corners, a roof, and with capacities of 50,000 or higher. Most of these stadiums have therefore few expansion options, and even if they did, upgrading a stadium to a capacity of over 60,000 is very expensive.
Both Bayern and Schalke, for example, could possibly add another 10 to 15,000 places to the Allianz Arena and Veltins Arena, but this will either be impossible from a technical point of view or just too expensive.
Expansions will therefore have to come from the smaller stadiums, the 30,000-category, but these clubs are currently not selling out consistently enough to justify such investment. The only club left with an old stadium is Freiburg, and though it has been desiring a move to a new stadium for years, few progress has been made.
Attendances in the Bundesliga will therefore mainly become a function of which teams are playing in the league combined with some smaller autonomous fluctuations. They will then, for example, move up when a club with a lot of free capacity has a good season (which happened with Gladbach this year).
On the other hand, there is also no indication that attendances will significantly decline any time soon as the Bundesliga is still as popular as ever, and its status as the best-attended league in Europe will therefore likely remain unthreatened for many years to come.