Stoke City seeks stadium expansion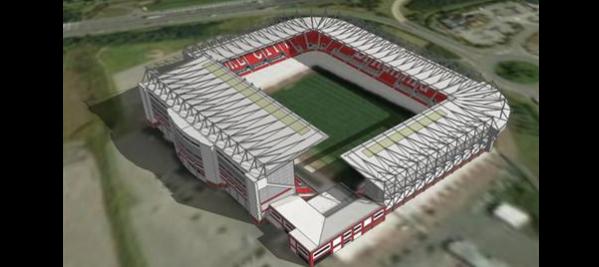 Stoke City have announced plans to expand the Britannia Stadium to a capacity of over 30,000 seats by building a stand in the currently empty south-east corner of the stadium.
The club stated their intent to seek planning permission for the expansion, and at the same time started a public consultation process to get feedback on the plans from fans and other interest groups.
One of the main characteristics of the Britannia Stadium are its three open ends with only the south-west corner filled up. It can currently hold 27,743 spectators, and the club states that the expansion should add at least 1,800 seats for home supporters.
The expansion is therefore relatively modest, and will most of all serve as an extension of the family section and to make it easier for larger groups of fans to find seats together. The club currently has one of the highest occupancy rates of the Premier League, and while they do not sell out every match, the increase does seem very reasonable.
Stoke adds that they furthermore want to take advantage of the relatively low construction costs at the moment. The south and east stand have a similar structure and height, and with the footing already in place it should make works relatively easy.
Initial reactions of fans seem largely positive, though there is some concern that the ground will loose some of its uniqueness and turn into more of a generic arena.
No clear time schedule has been provided yet as when the club would like to start works. Stoke City follows the likes of Fulham, Brighton, and Swansea City, that all hope to break the 30,000-capacity barrier.