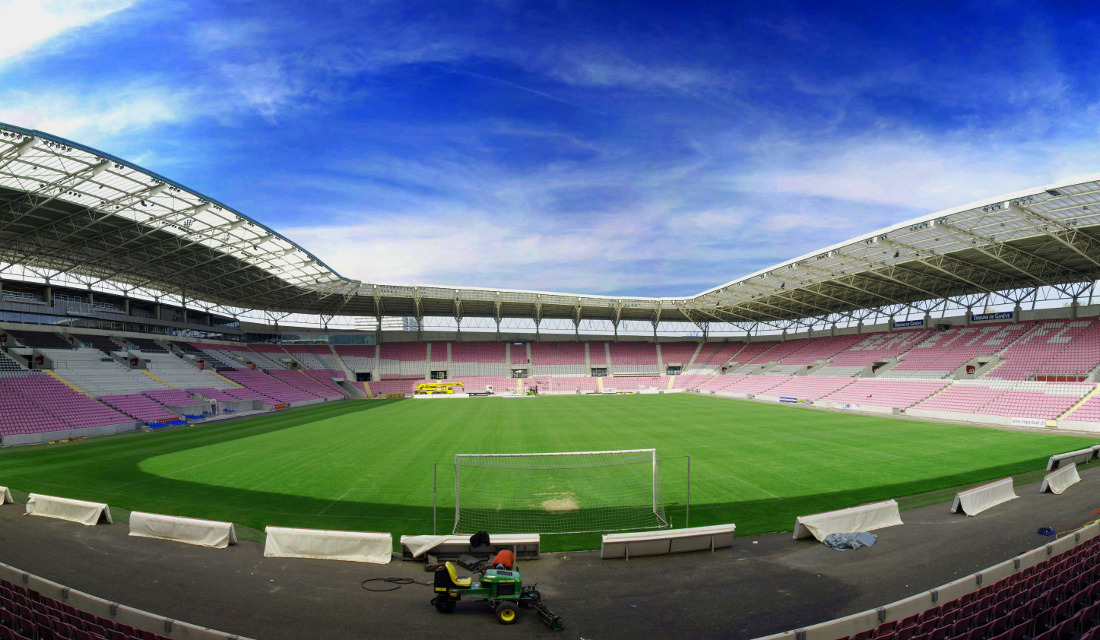 Key facts
Club: Servette FC | Opening: 2003 | Capacity: 30,084 seats
History and description
Stade de Genève officially opened on 16 March 2003 with a match between Servette and Young Boys (1-1). Construction of the stadium had started two years earlier. The stadium came at a cost of CHF 240 million.
Stade de Genève was one of the playing venues during the Euro 2008 championships, hosting three group matches.
In 2017, the stadium hosted the Swiss Cup Final between Basel and Sion (3-0). The stadium has also been used as a home by French side Evian, and has frequently hosted matches of the Swiss national team.
How to get to Stade de Geneve
Stade de Genève is located in the south of the city of Geneva, about 3.5 kilometres from Geneva's historic centre and a kilometre more from Geneva's main railway station.
From the main railway station the stadium can be reached with tram 15. Take the tram in the direction of Palettes and get off at stop P+R Étoile. From there it is a 10 to 15-minute walk to the stadium.
Tram 15 also passes through the city centre. An alternative is to take tram 12 (e.g. from Place de Neuve) in the direction of Palettes. Get off at stop Bachet-de-Pesay from where it is a 5-minute walk to the stadium. The ride takes about 15 minutes.
From the centre you can also take bus 4 (e.g. from Bel-Air), which bring you right to the stadium (stop Stade de Genève). Depending on the time and day buses run about twice to five times an hour.
From other parts of Geneva bus 21, 22, 42, 43, and 46 may come in handy.
Address: Route des Jeunes 16, CH-1227 Carouge
Eat, drink, and sleep near Stade de Geneve
Stade de Genève lies squeezed in between a motorway and a set of railraod tracks. East of the stadium the area mostly consists of light industry, whereas the west is mainly residential.
Right next to the stadium lies shopping centre La Praille. It has a few restaurants and cafés, and you can also go bowling. Apart from that, there is little in the area and eating and drinking can best be done in Geneva's city centre.
If you wish to stay as close as possible to Stade de Genève, then Hotel Ramada Encore Geneve La Praille will likely have your preference. It lies right next to the stadium and gets good reviews. Hotel des Horlogers is another option that lies south of the stadium. It is an approximate 15-minute walk to get to the stadium from there.
Click here for an overview of hotels near Stade de Genève. Alternatively, there are many more hotels in Geneva's city centre, and in particular near the main railway station.
Servette Tickets
Tickets for Servette games can be purchased online, by phone +41 (0) 900 800 800, or at any of the Ticketcorner sales points. These points include several CFF train stations, the Hotelplan travel agencies, and the Geneva tourist office.
On the day of the match tickets can be bought at the gates of the stadium from 90 minutes before kick-off. Servette rarely sell out.
Ticket prices range from CHF 25.00 for a seat behind the goal to between CHF 50.00 and CHF 70.00 for a seat at the main stand.
Photos of Stade de Geneve
Relevant Internet links
Servettefc.ch – Official website of Servette FC.
Geneva-tourism.ch – Geneva tourist information.
Tpg.ch – Geneva public transport information.