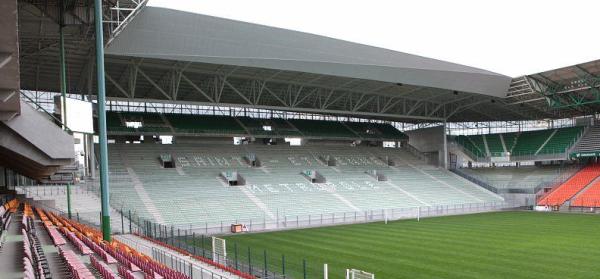 On Saturday, Saint-Etienne concluded the first stage of the redevelopment of Stade Geoffroy-Guichard with the opening of the new Charles Paret stand.
The Charles Paret stand, more commonly referred to as Kop Nord, was rebuilt over the last year and will once again become the home of Saint-Etienne's most fanatic fans.
The new stand is part of a redevelopment project that will make the stadium suitable to serve as a playing venue for the Euro 2016 tournament. The new Kop Nord was the first stage of the works that will now continue with the rebuilding of the south stand in similar style.
The new south stand is scheduled to be completed in the summer of next year, and the completely redeveloped stadium one year later in 2014. The result will be a final capacity of about 40,000 seats.
The new two-tiered Kop Nord replaces the old stand that was single-tiered, but in order to keep the atmosphere of the old stand, the new stand has been designed to consist of one large lower tier and a smaller balcony-type upper tier.
While the new stand is technically an all-seater, standing is facilitated by the firm backless seats that have been installed. Backrests can be flipped out for European matches as these are required by UEFA.
The match on Saturday ended in disappointment for the home fans as guests Sochaux were able to score the only goal of the match.
More photos of the empty new stand here, and some of the fans during the match here and here.
Photo credits: © Geoffroyguichard2016.com