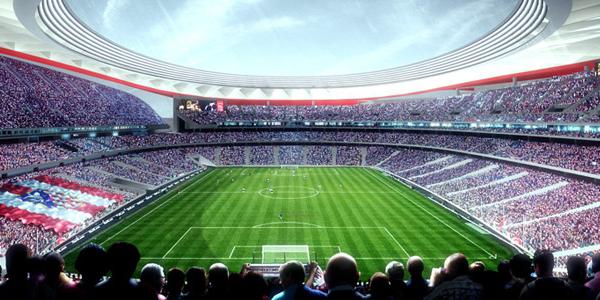 Key facts
Club: Club Atlético de Madrid | Capacity: 67,500 | Scheduled opening: 2015 | Status: under construction
Description
Club Atlético de Madrid has recently started initial works that should lead to a new home by 2015.
Atlético had been considering a move to a new stadium for several years as their current Estadio Vicente Calderón lacks the possibilities for expansion, being enclosed by a river and a motorway on one side and residential buildings on the other.
The new stadium is planned to have a capacity of 67,500 seats, about 12,000 more than the Vicente Calderón.
If Madrid gets awarded the 2020 or 2024 Olympics, the stadium will also serve as the main venue for the event. The stadium will be designed as a football-specific stadium though, with the stands close to the pitch. Any athletics tracks will be built on top of the lower parts of the stands, hereby lowering the capacity for the Games to about 60,000 seats. In this case Atlético will have to move to another stadium for about a year.
The stadium will be built at the site of the current Estadio La Peineta, which in recent years got mainly used for athletics events. Parts of Estadio La Peineta have been incorporated in the design of the new stadium and parts will be demolished.
Estadio La Peineta is located in the east of the city of Madrid, just over 8 kilometres from Madrid's city centre and not far from Barajas International Airport. It lies almost adjacent to the M-40 motorway and already has two metro stations in its vicinity.
The costs of the project are estimated to be €200 million, which will be financed by the development of the land on which the Vicente Calderón currently stands. Atlético Madrid will become the sole owner of the stadium.
The club presented its plans for the new stadium in December 2011. At the same time it announced that works had already started with demolishing part of the old structures and making the terrain reading for the subsequent foundation works. These had not yet started by the middle of 2012.
Atlético hopes to move into the new stadium before the start of the 2015/16 season.