La "U"'s fans have been dreaming of playing in a new club-owned stadium for years. Projects have come and gone, and a new one has recently come again, which means hope that their dream may finally come true.
Club Universidad de Chile, often nicknamed la "U", are currently playing their home matches at Estadio Nacional de Chile, Chile's prime football venue and host of the 1962 World Cup final.
Estadio Nacional is old, but generally in good condition as it has recently been refurbished. And plans are still there to equip the stadium with the a roof, which had been planned before, but was postponed when the 2010 earthquake struck the country.
Estadio Nacional, however, is owned by the local municipality. Which means that it can be rented by any club that wishes to use it, not completely uncommon in Latin America as, for example, Uruguay's Estadio Centenario is similarly used. But that does mean that the stadium is regularly unavailable (it is also Chile's main concert venue) and that la "U" is forced to find a different venue.
What's more, apart from the inconvenience, there is of course the pride of owning your own proper stadium, and the fact that bitter rivals Colo Colo have been able to make the move from Estadio Nacional to an own stadium will surely add to that. That said, it took their rivals 35 years to finish Estadio Monumental, so there is not that much room for schadenfreude.
Last month, Universidad de Chile once again revealed details about a possible new stadium. Most importantly, the new stadium will have capacity for 32,000 spectators, with the opportunity to easily increase this to 42,000.
It was earlier thought that a new stadium would get built in the far south of Santiago de Chile, in the La Cisterna area, but this was ruled out by José Yuraszeck, president of the university club. No alternative was given though, but he did promise that a definite announcement will be made in December.
At the same time he stated that the club expects construction to start in January 2014. Of course, promises have been made before, but were broken just as many times.
Earlier rumours suggested that the club was particularly inspired by San Juan's new Estadio del Bicentenario, located just across the border in Argentina. A decent, but far from impressive ground.
Fans therefore must have been relieved that a recent trip of the side to Japan caused Yuraszeck to be very impressed by Kashima Soccer Stadium, home of Kashima Antlers.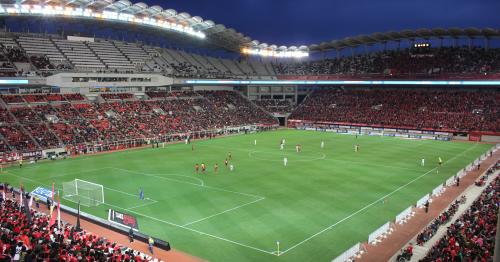 Kashima Soccer Stadium currently holds just over 40,000 people, but was a lot smaller before it got expanded for the 2002 World Cup. Back then it consisted of four separate stands (video), and Yuraszeck made clear that la "U"'s new stadium will be more similar to that, kind of like the current stadium without its upper tier.
The fans of la "U" will undoubtedly be eagerly anticipating the announcement in December, though at the same time likely dread another disappointment. But right now it seems that there is a good chance their dreams may finally come true.