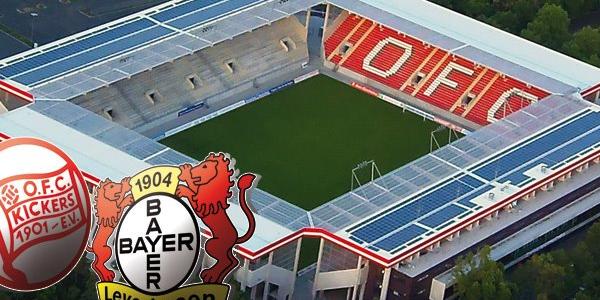 Last week it was Le Havre that opened a brand new arena. This week it is the turn of German side Kickers Offenbach to celebrate the completion of their new Sparda-Bank-Hessen-Stadion.
The occasion was highlighted by a friendly match between Kickers Offenbach and Bayer Leverkusen, won convincingly by the guests (0-3).
The symbolic first kick off was performed by Rudi Völler, who had started his career at the Kickers and is currently director of sports at opponent Leverkusen. He shared the honour with local hero Hermann Nuber, who had discovered Völler in 1975.
The Sparda-Bank-Hessen-Stadion replaced Kickers' old Stadion am Bieberer Berg, which had been their home for 90 years, but in the end could not withstand the test of time.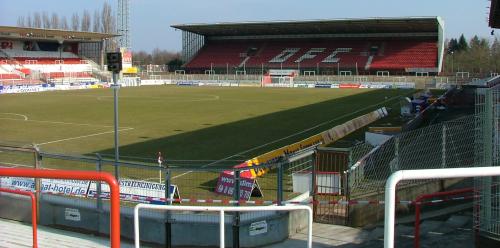 Both the old and new stadium do have some similarities though in the sense that they consist(ed) of four single-tiered separate stands. One thing that stands out in the new arena is its large terrace that covers a complete side.
While large terraces are not that uncommon in Germany's lower leagues and regularly cover the width of a complete short end, there are few clubs that choose to locate the terrace over the entire length of one of the long sides.
The new stadium can hold a total of 20,500 spectators, of which about half standing. Just over 14,000 people showed up for the first match, and the club may find it hard to fill the stadium during the season as it currently occupies a spot in the 3. Liga, the level below the 2. Bundesliga.
Having said that, the 3. Liga also consists of such household names as Arminia Bielefeld, Hansa Rostock, Alemanna Aachen, and Karlsruher, so there will be no lack of interesting fixtures.
Kickers Offenbach were once such household name, but saw their fortunes reversed in the 1980s and have struggled ever since. Their new stadium may be just what they need to find a way up again.
Photo credits: the photo of the Sparda-Bank-Hessen-Stadion comes from the official Kickers Offenbach Facebook Page, and the photo of the Stadion am Bieberer Berg was taken by Wikipedia user Diba.