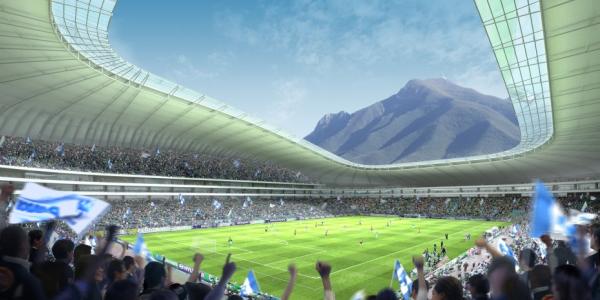 Key facts
Club: Monterrey CF | Capacity: 50,000 seats | Scheduled opening: 2014 | Status: under construction
Description
Estadio de Fútbol Monterrey is the currently under construction new home of Monterrey CF.
Monterrey has for years looked into building a larger replacement for the aged Estadio Tecnológico that currently sells out most home games.
The current plans for the construction of a new stadium were first presented in 2008. Start of construction was initially planned for late 2008, however the project got delayed after interest groups protested against the negative ecological impact the stadium would have on its surrounding areas.
The area in question is the Parque La Pastora, a park that is located just over 5 kilometres east of Monterrey's city centre. Apart from several park and forest areas, Parque La Pastora also holds the city's zoo.
After legal battles delayed the project for almost three years, it finally received permission in August 2011. Soon after the club started with preliminary works to make the terrain ready. In May 2012 works were being performed on the foundations of the stadium.
Estadio de Fútbol Monterrey is designed by architecture firm Populous. The design of the stadium is said to be inspired by the mountains that surround the city. The roof structure has also been compared to the body of an armadillo.
The stadium will have a capacity of about 50,000 seats. It has an asymmetric design in which the stands at one end are lower than at the others. The distance between the stands and pitch is the minimum allowed by FIFA.
The project is estimated to cost about M$2.3 billion, which will be completely privately financed by the club and its owner FEMSA, one of the largest companies of Mexico.