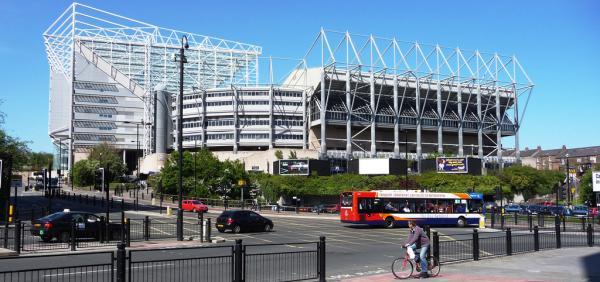 Newcastle United owner Mike Ashley did not make himself many friends today when he decided to rip the St James' Park sign off the walls of St James' Park. Or the Sports Direct Arena, as the stadium is called these days.
Last year, Ashley announced the name change of St James' Park to Sports Direct Arena, after his own business, a temporary move to pave the way for an outside sponsorship deal.
Today, the owner apparently decided that it was no time for being nostalgic, and ordered a crew of workers to peel the old stadium name off the outside walls and replace it with a brand-new Sports Direct sign.
The crew, themselves not all too happy being assigned to the job, was subject to verbal abuse of passersby that called the move a disgrace. Other fans vowed to never call the stadium by its new name.
Despite the club's recent rise in fortunes, chairman Mike Ashley remains unpopular with Newcastle fans, a standing that will surely not have improved today.
Photo: © Flickr user yellow book.