Estádio José Alvalade (1956)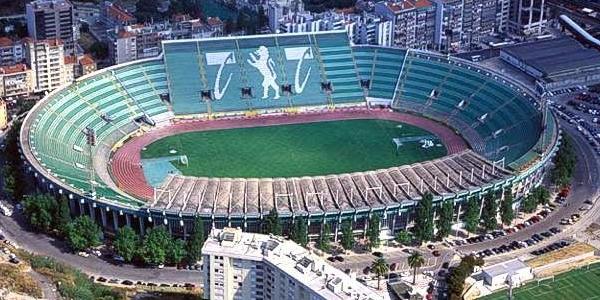 Key facts
Club: Sporting CP | Opening: 1956 | Closing 2003 | Final capacity: 52,800 | Maximum capacity: 75,200
Description
Estádio José Alvalade was between 1956 and 2003 the home of Sporting Clube de Portugal.
By the 1950s Sporting had already played in five different stadiums when again the need arose for a larger and more modern stadium. Plans were approved in 1954 and one year later construction started.
The stadium officially opened on the 10th of June 1956. About 60,000 people attended the opening ceremony, which started with a show of more than 1,500 athletes and ended with a friendly match between Sporting and Brazilian side Vasco da Gama (2-3).
The stadium remained relatively unchanged in the decades following until in 1983 the construction of a new stand at one of the long ends raised capacity to 75,200 places.
However, by the turn of the millennium the stadium had significantly aged and with the prospect of the upcoming Euro 2004 championships it was decided to build Sporting a complete new stadium.
The new Estádio José Alvalade, built next to the old one, opened in the summer of 2003, after which the old one got demolished. In its final years the old stadium could sit about 52,800 people.