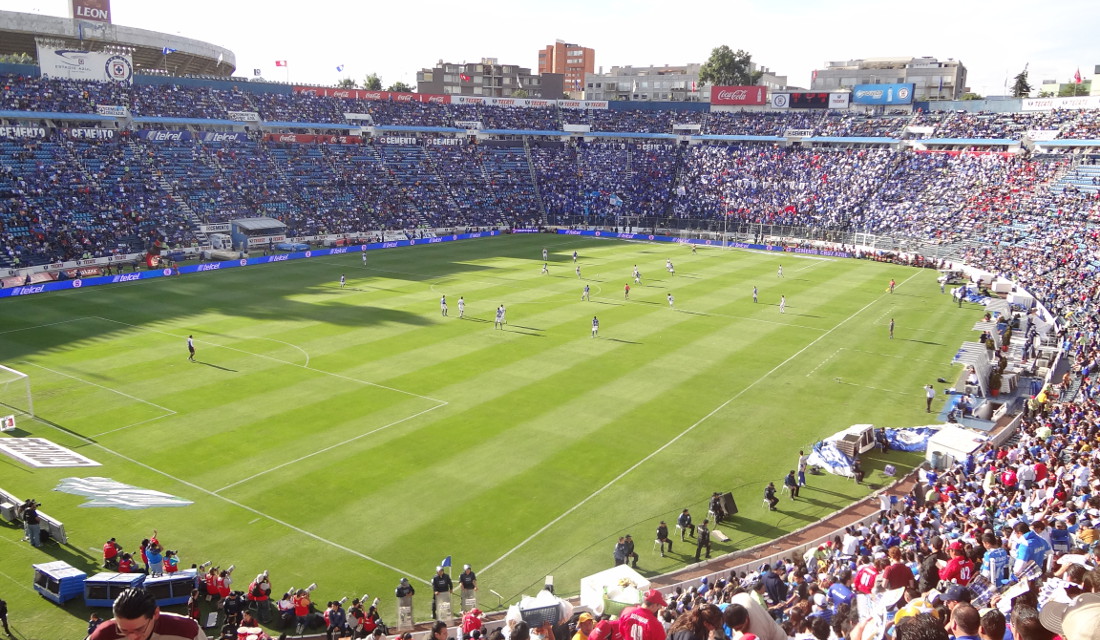 Key facts
Club: Cruz Azul AC | Opening: 1947 | Capacity: 35,161 seats
History and description
Estadio Azul was originally built for American football purposes, but soon after it had opened in 1947, Club America moved in and stayed at the ground until 1955.
During its existence, Estadio Azul also hosted Necaxa for five years in the 1950s, and Atlante for several intermittent periods until 2002. From 1983 to 1996 the stadium was therefore called Estadio Azulgrana, after the club colours of Atlante.
Most of these clubs switched between Estadio Azul and Estadio Azteca. In 1996, it was Cruz Azul who made the move to the Estadio Azul, having played the previous two decades at the Azteca.
Over the years, several minor renovations have been made to Estadio Azul, however no major changes.
In 2018, upon the end of their lease of the stadium, Cruz Azul moved out of Estadio Azul and into Estadio Azteca. Estadio Azul was expected to be torn down and replaced by a shopping mall as it lies in one of the wealthiest parts of Mexico City, but this has yet to happen. Cruz Azul, who are looking to build a new stadium, have thus far shown little interest in returning to to their old ground.
How to get to Estadio Azul
Estadio Azul is located toward the south-west of Mexico City, about 8 kilometres from the city's historic centre and about 3 kilometres south from popular nightlife area Condesa.
The stadium lies one block off Avenida Insurgentes, one of the city's principal avenues.
The closest metro station is San Antonio, which lies a 10-minute walk away from the stadium. Metro San Antonio is on the orange line 7, which runs in the west of the city and can be reached via a transfer at Tacubaya station further north. Both lines 1 (pink) and 9 (brown) connect with line 7 at Tacubaya.
The stadium can also be reached with the bright red buses of the modern metrobus system. Line 1 runs all the way down Avenida Insurgentes and can be boarded in popular areas such as the Zona Rosa and Condesa. Take the bus in southern direction and get off at stop Ciudad de los Deportes. It is only a few minutes walking from there.
Address: Indiana 260, Delegación Benito Juárez, México D.F.
Eat, drink, and sleep near Estadio Azul
Estadio Azul is located just off the large Insurgentes Avenue in a generally well-off area. Insurgentes is lined with many modern bars and restaurants, the generic chain restaurants, as well as cheaper fast food joints, which provides for plenty of options before or after the match.
There are two hotels located within a few blocks of the stadium. Hotel Diplomatico is reasonably priced and gets good reviews. Hotel El Greco is somewhat cheaper, but also gets slightly worse reviews. There are a few more hotels further north along Insurgentes near the World Trade Center, most a little or much more expensive.
There are many more hotels further north along Insurgentes, in particular around Reforma Avenue and the Zona Rosa nightlife area. From here, getting to the stadium with the metrobus is also very quick and easy.
Photos of Estadio Azul
Relevant Internet links
Mexicocity.gob.mx – Official website of the Mexico City tourism agency.
Metrobus.df.gob.mx – Website of the Metrobus transportation system.
Metro.df.gob.mx – Website of the Mexico City metro.