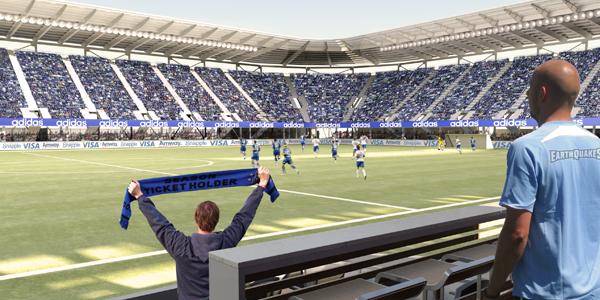 Key facts
Club: San Jose Earthquakes | Capacity: 18,000 seats | Scheduled opening: 2013/14 | Status: under construction
Description
The New Earthquakes Stadium is the currently under construction new soccer-specific stadium of the San Jose Earthquakes.
The Earthquakes first proposed the construction of a new stadium in 2007, and shortly after the club selected the Airport West site (located south-west of San Jose's International Airport) as their preferred location. The first stadium designs were presented in 2009.
Rezoning of the land (allowing it for stadium use) was completed in 2010, however local residents expressed concerns with noise and light pollution, which made the club decide to forego on the opportunity to stage concerts at the stadium.
A development permit was awarded in 2011, but local residents again submitted appeals. These were finally denied in February 2012 and the Earthquakes started construction in late 2012. It is expected that the stadium will be ready for the start of the 2014 MLS season.
The project works with a budget of $60 million, which will be completely privately financed.
The stadium is planned to have a capacity of 18,000 seats, which will be divided over stands on three sides of the pitch, leaving one end open with just the scoreboard. This end can later be filled with seating, resulting in a capacity of 24,000 seats.