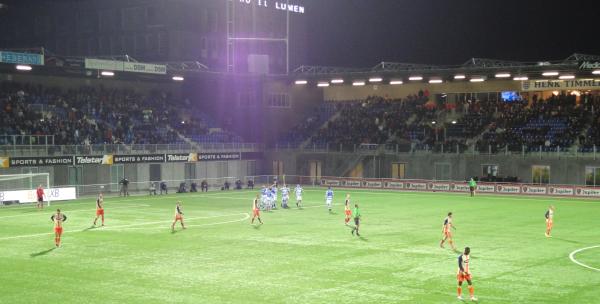 Whereas most Dutch clubs are already playing in new or redeveloped stadiums, there is still some activity in the east of Holland. Twente's Grolsch Veste got expanded, Heracles Almelo is planning a new stadium, and De Graafschap long played with the idea of building a new stadium, but recently settled for redeveloping De Vijverberg.
PEC Zwolle already opened a new stadium in 2009. The 10,000 capacity proved to be sufficient for most Eerste Divisie matches, but now that the club has promoted to the Eredivisie, it fears that 10,000 places will not be enough. Not that odd, as the club already averaged between 8,000 and 9,000 this year, and the likes of Ajax and Feyenoord will surely attract the attention of larger crowds.
As major redevelopments are obviously out of the question in such short period of time, the club has instead creatively managed to increase capacity with a further 2,000 places.
First they plan to convert 80% of the seats at one of the short ends into standing places, which will create half of the extra places. The other half is created by erecting an emergency stand that bridges the gap between the permanent stands and the pitch. This has the added benefit that the "ugly grey walls" about which we earlier reported will disappear on one end.
The medium-term objective of the club is to expand the capacity of the stadium to about 14,500 places.
Thirty kilometres further down the river IJssel lies the city of Deventer, the home of Zwolle-rival Go Ahead Eagles. The Eerste Divisie team plays its home matches in De Adelaarshorst, a modest and rather aged stadium with a capacity of 6,700 seats.
The club, however, has renewed ambitions now that it has managed to leave its financial problems behind. Part of these ambitions is a renovated stadium with increased capacity.
On Wednesday it signed an agreement with the local council that could lead to the club being able to start works in the summer of next year.
The plans predominantly focus on increasing the number of corporate facilities in order to increase income, but also entail a general upgrade of facilities and increase of capacity to 11,000 seats.
There are still a few hurdles to clear though, as the club needs to find solutions for the limited parking space around the stadium and may find resistance among the local residents. De Adelaarshorst lies hemmed in by housing and therefore the possibilities for large developments are limited.