Argentine side Club Atlético Unión has presented plans for an extensive redevelopment of their Estadio 15 de Abril, which aim at turning the stadium into a modern 40,000-arena.
Unión President Luis Spahn laid out the plans on Thursday evening in front of a crowd of more than 3,000 Unión fans. According to the President, the current stadium, which can hold just over 22,000 fans and has not been changed since the 1970s, has become too small for the club that this season returned to Argentina's top league after an absence of eight years.
The project would be executed in four stages, with the first stage involving the construction of an extra tier on the south stand. This tier will consist of over 5,000 places in seats and lodges and will raise the capacity of the stadium to about 28,000.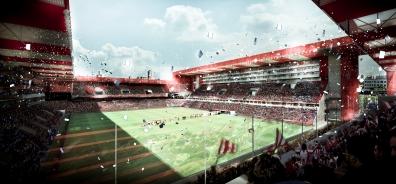 The next stages will then involve the gradual redevelopment of the other three stands, which means that during the works Unión will be able to keep playing its home matches at the ground.
The result will be a modern arena with a capacity of over 40,000, which the club hopes to have completed in 2013.
The club expects to be able to start the first stage in June on the condition that it will be able to arrange funding. The club intents to do this by pre-selling the seats and lodges at the new stand. Fans can currently buy a place for a period of five years with prices ranging from 9,000 to 12,000 Argentine pesos.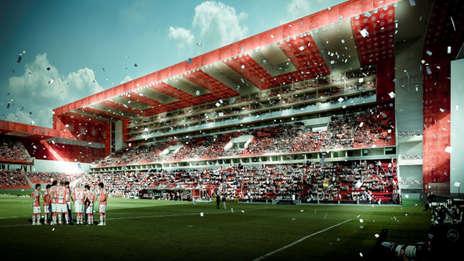 If at least a total of AR$10 million is raised, half of the budgeted costs of the first stage, construction will start. Fans have until the 20th of April to subscribe.
The stadium has been designed by a group of architects that are fan of the club and have voluntarily contributed to the project. Due to the combination of fan-financing and voluntary contributions, the stadium has already been dubbed "estadio de la gente", which translates in "stadium of the people".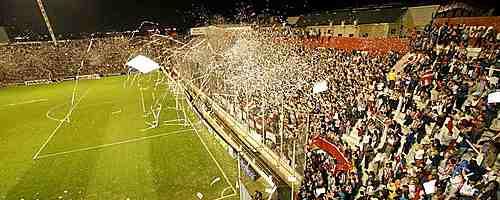 Club Atlético Unión is a club from the Argentina city of Santa Fé, the ninth largest of Argentina, located about 400 kilometres north-west of the capital Buenos Aires. The club had its most successful period in the 1970s with a 2nd place finish in the league in 1979 the high point.
The club has struggled in the last decade though, and only last year managed to return to the highest league where it currently fights for survival.
Renders: © Clubaunion.com.ar