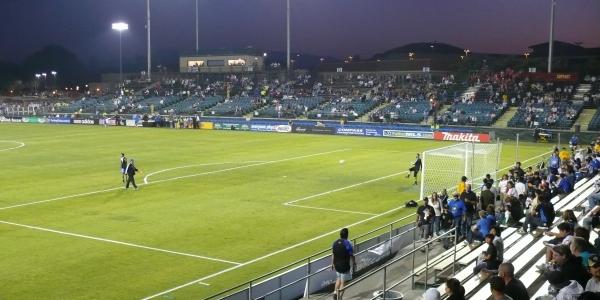 Key facts
Club: — | Opening: 1962 | Capacity: 10,525 seats
History and description
Buck Shaw Stadium was built to host the (American) football, soccer, and baseball matches of the Santa Clara University teams. The stadium officially opened on the 6th of October 1962 with a football match between Santa Clara and Occidental.
Buck Shaw Stadium was turned into a soccer-specific stadium in 2005, and at the same time extensively renovated and expanded.
The San Jose Earthquakes have been playing at the stadium since 2008, and have made it their permanent home from 2009. Before they played their home matches at Spartan Stadium.
The Earthquakes are currently planning to build a new stadium not far from Buck Shaw Stadium. They received approval for their plans in 2012, and hope to move into their new home before the start of the 2014 MLS season.
How to get to Buck Shaw Stadium
Buck Shaw Stadium is located in the city of Santa Clara, at just over 3 miles from downtown San Jose. The stadium is part of the Santa Clara University campus.
If arriving from the Interstate 880, take the Alameda exit and travel north on the Alameda. The Alameda will automatically turn into El Camino Real. The entrance to the Santa Clara University campus lies on the left side of the road.
If arriving from the I-280, take the I-880 north and follow as above.
Buck Shaw Stadium is located almost across the road from Santa Clara Caltrain Station. The Caltrain runs from San Francisco Station via San Jose to Gilroy. Trains go about once every hour.
Address: 500 El Camino Real, Santa Clara 95050
Photos of Buck Shaw Stadium
Relevant Internet links
Sjearthquakes.com – Official website of the San Jose Earthquakes.
Sanjose.org – San Jose visitor information.