Stadion Miejski w Bielsku-Bialej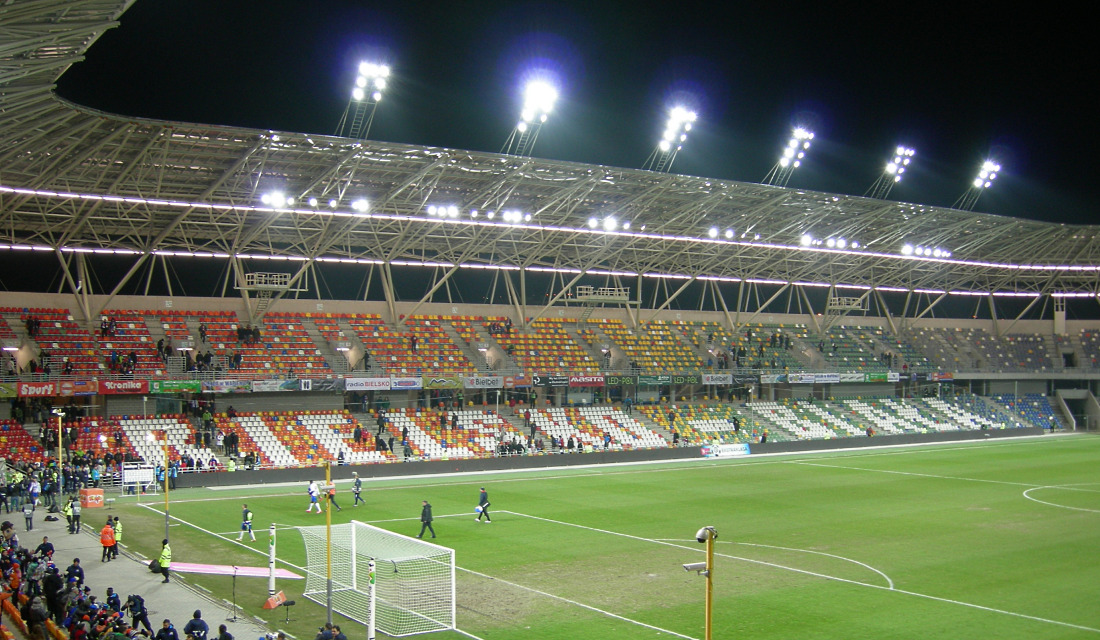 Key facts
Club:  TS Podbeskidzie | Opening: 2015 | Capacity: 15,316 seats
History and Description
Stadion Miejski w Bielsku-Białej is the recently opened new stadium of TS Podbeskidzie. It got built in the place of Podbeskidzie's old home Stadion Miejski.
The new stadium project was first presented in 2008, but it took several years for the plans to get approved. This finally happened in 2012, and, after a deal was made with local residents that objected, construction started later that year.
Miejski Stadion w Bielsku-Białej got built in phases so that Podbeskidzie was able to keep playing their home matches at the stadium. Construction was plagued by several delays and it took until 2015 instead of 2014 for the stadium to be completed, though it took until October 2016 for the stadium to be officially opened.
How to get to Stadion Miejski w Bielsku-Bialej
Stadion Miejski w Bielsku-Białej is located in central Bielsko-Biala, an approximate 15-minute walk south-east from the central market square.
The walk from the central Glowny railway stadium, located a little further north, takes about half an hour. Trains to Bialsko-Biala run infrequently from Katowice station (1 hour journey) or Krakow Plaszow station (nearly 3 hours journey).
The ground is even closer to Bielsko-Biala Lipnik station, about a 10-minute walk. Most trains will stop at Lipnik station as well.
On matchdays bus 101, 102, and 103 serve as shuttle buses to the stadium.
Address: ul Rychlińskiego 21, Bielsko-Biała
Podbeskidzie Tickets
Tickets for TS Podbeskidzie games can be bought online.
Email bilety@tspodbeskidzie.pl or call +48 33 498 39 87 for more information.
Photos of Stadion Miejski w Bielsku-Bialej
Relevant Internet links
Tspodbeskidzie.pl – Official website of TS Podbeskidzie.
Bielsko-biela.pl – Official tourism website of Bielsko-Biala.