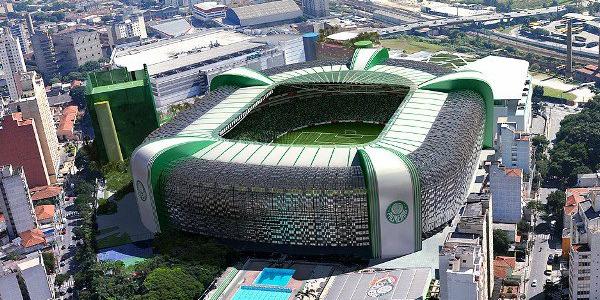 Key facts
Club: SE Palmeiras | Capacity: 45,000 seats | Scheduled opening: April 2013 | Status: under construction
Description
The Arena Palestra Itália is the currently under construction new stadium of SE Palmeiras. The stadium is being built at the same site as Palmeiras' old Estádio Palestra Itália.
Palmeiras played its last match at their old stadium in July 2010. The majority of the stadium got consequently demolished and in late 2011 was started with the foundations of the new stadium. By the middle of 2012 most of these works had been completed and the first stands had been erected.
The project, budgeted at a total cost of R$ 330 million, is expected to be completed in April 2013. Palmeiras is currently looking for a naming rights sponsor, which will be an important contribution towards the financing of the project.
The Arena will have a capacity of 45,000 seats, all covered, including a total of 2,000 places in VIP lodges,
The stadium is being developed as a multifunctional stadium and is expected to host concerts, conferences, and other events. The club has already signed a contract with entertainment group AEG to partner in operating the stadium.
Due to difficulties in obtaining planning permission for the construction of a new stadium, the club instead decided to use an existing permission for a redevelopment of the stadium. To have the project qualify as a redevelopment the north curve has been left standing. Though the club hopes to still receive a permission for a new stadium, the current plans entail building over the old curve. As a result one of the short ends of the new stadium will have a more oval shape than the other more rectangular end.
Despite complying with FIFA requirements, the stadium will not be a playing venue during the 2014 World Cup as this honour has already been given to the currently under construction Arena Corinthians.